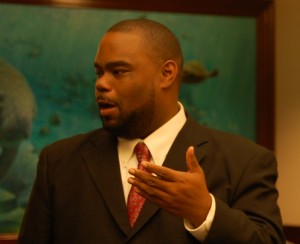 Oh my!
My trusty sources tell me that Annette Taddeo, who gave a Miami-Dade DEC "Political Consulting" contract to a company owned by Juan Cuba, the Executive Director of the Miami-Dade DEC, is now pushing to have Dwight Bullard replace her as Chair of the Miami-Dade DEC.
Temporarily!
Rumor has it that Annette is pushing for Bullard to take over as Chair, as some sort of peace offering towards the African-American Community.  She knows that Bullard is beloved by the community, and thinks this is the way to smooth over the fact that instead of putting the suspect contract given to 537 Consulting out for bid, she gave it to her Executive Director, Juan Cuba.
According to my source, Annette insists that the replacement be an African-American.  INSISTS on it!
Let me first state that Dwight Bullard would make a fabulous Chair, but does Taddeo really think that is all she has to do to change the fact that a majority of African-Americans in the Miami-Dade area don't like her?  Or Charlie Crist?
The insult comes, though, in the fact that she would think Dwight Bullard would serve as a place holder for her.  She allegedly proposes that should she and Charlie Crist lose in November, ( get past the primary first, lady!), she would waltz back into the position of Chair of the DEC.
So basically what she is saying is: "I'll throw you a bone, Black Community, but said bone is only temporary!"
Excuse me, but I am literally LMAO!!!
Taddeo knows that Bullard is a vocal supporter of Senator Nan Rich, as well.  Is this another attempt by the Crist Camp to shut Nan Rich out?  By offering her supporter crumbs?  I know that there are some sell-out members of the Black Community, but something tells me that Dwight Bullard isn't one of them.
After speaking to Senator Dwight Bullard, who certainly isn't a "temporary" leader,  he had this to say:
My commitment to the party goes beyond just the Primary.  Any leadership position I take on is going to be 100% me. I'm not a mouth piece for any particular candidate.  I have core principles and values and those will be reflected in my leadership.  That being said, I still stand by my support of Senator Nan Rich.
So it looks like  Annette Taddeo is trying to kill two birds with one stone, pushing Senator Bullard for Chair to be able to say "hey, look at me, I like Black people",  and taking his support of Nan Rich away.
Guess what, neither is going to work.
A lot of Miami-Dade African-Americans still don't like you, and Senator Dwight Bullard is STILL supporting Nan Rich!
Again, Bye Felicia!
If you liked this post, say thanks by sharing it:

Leslie is the Founder of Women On The Move, and The Democratic African American Women Caucus, www.daawc.com. Follow her on social media for all exciting things concerning these two organizations.

Latest posts by Leslie Wimes (see all)