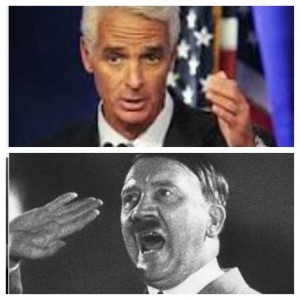 I am so sick of Charlie Crist supporters using the name recognition argument for wanting all Democrats to support Crist. Just because someone knows your name doesn't mean it's for a good reason! Not one of them can list with certainty what Crist actually believes, or supports, except Obamacare. The News Media refuses to ask him about gun control. Crist, who often bragged about his A+ rating with the NRA, has kept mum about that issue. He uses the ridiculous "by my definition" to call himself pro-life. The cold, hard, fact of the matter is that Crist stands for nothing but Crist. Having someone in office who you are not sure of is frightening. The desperation that the Florida Democratic Party has shown in allowing Charlie Crist to lead them around by the nose is frightening. It has become clear that the Democratic Party has tossed its platform aside in order to get Crist into office. The direction they have been heading towards for a while is insane. They pressured Jessica Erlich to get out of the CD-13 race to make way for Alex Sink. Guess what? Alex Sink lost. Now Jessica Erlich has moved on to other things, and they have no candidate to run for that office. The one guy who actually declared that he wanted to run has been pressured to get out as well. Manuel Sykes was actually threatened into getting out of the race. From The Tampa Bay News:
Pinellas County's Democratic chairman left a bluntly worded voicemail telling well-known St. Petersburg pastor Manuel Sykes he would be "persona non grata" if he followed through with plans to run for Congress. Sykes was the only announced Democratic candidate in Pinellas County's 13th Congressional District, but he said Wednesday he has now decided not to run after all.

In the voicemail, Mark Hanisee said party officials had spoken to the offices of two key Democrats, former congressional candidate Alex Sink and St. Petersburg Mayor Rick Kriseman.

"Neither one of them are endorsing you, nor is the (Democratic Congressional Campaign Committee). They have another candidate," Hanisee said. He added, "You better hold off, or, like I told you Sunday night, you are going to be persona non grata. Take that to the bank. That's telling you the gospel truth. You're going to be getting a call from Rick Kriseman, if you haven't already, telling you to back off. Have a nice weekend."

Sykes said the comments disappointed him, and "the party needs to be purged of these kinds of hindrances to its progress and progressiveness." He said all candidates should be allowed and encouraged to run.
This sounds like the mafia, for God's sake!  Is this what the Florida Democratic Party has come to?
Stephen Goldstein, in his attempt to explain that Nan Rich should get out of the governor's race, said the following:
 Nan Rich's excursion into political fantasyland leaves hard feelings in Broward, she and her supporters may be responsible for Scott's re-election. And she will go down in history as the Kendrick Meek of 2014, another ego-tripper who split the vote with Crist in 2010 and helped send Marco Rubio to the U.S. Senate.
For those of you who have forgotten, the Florida Democratic Party, once Charlie Crist decided to run as an Independent, abandoned Kendrick Meek in his bid for the US Senate against Marco Rubio.  It is incomprehensible to me that these "Democrats" are so quick to throw other Democrats under the bus for Charlie Crist.  Here we have a woman who has every right to run for Governor.  She is qualified, and has the record to back it up.  Stephen Goldstein is saying that it will be Nan's fault if Democrats don't turn out for a Charlie Crist candidacy in November, instead of acknowledging that the fault will lie squarely at the feet of The Florida Democratic Party!
The Florida Democratic Party that I knew was pro-woman and pro-minority.  This new Florida Democratic Party has morphed into a bullying, unprincipled, anti-woman, anti-minority freak show!
For those that would suggest that if I don't like it, I should leave, my answer to you would be that I'm not going anywhere, and, more importantly, I will continue to voice my disgust with the way you are treating women and minorities.  At this point, Florida Democrats calling Florida Republicans anti-anything is like the pot calling the kettle black!
Let me be perfectly clear.  I will NEVER vote for Charlie Crist, and I don't care if he is the candidate in the general.  All you have to do is look around, and you will see that enough Democrats feel that way because of the disrespectful,  two-faced behavior being shown by the Florida Democratic Party, that Rick Scott very well may win in November.  You can't alienate some of your base, and then expect them to come out and support you.
Charlie Crist made it clear in an interview that he doesn't care if he loses votes of Broward Democrats.  That's good, because he has, and continues to lose some everyday.  This race is going to be very tight, and the votes that he doesn't care about losing very well may be the votes that put Rick Scott over the top.
This war within the Democratic Party is real, and trying to sweep it, and us, under the carpet is going to come back to bite Democrats in the ass in November.
Mark my words!
If you liked this post, say thanks by sharing it:

Leslie is the Founder of Women On The Move, and The Democratic African American Women Caucus, www.daawc.com. Follow her on social media for all exciting things concerning these two organizations.

Latest posts by Leslie Wimes (see all)