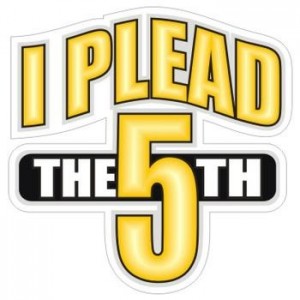 Charlie Crist has pled the fifth regarding the principles that the Democratic party platform is built  upon. He won't go on record, in a debate, with Senator Nan Rich because doing so is bound to incriminate him.
The cat would be out of the bag. Democrats would then know what he truly does, or does not, believe that week. We all know his beliefs do change!
Charlie has been pushing the same mantra of "his opponent can't win", just as he did against Marco Rubio. Marco Rubio was far behind in the polls and fundraising against the REPUBLICAN Charlie Crist. Had Crist actually won the Senate seat, you wouldn't hear bupkis about racial issues, gay issues, school issues, or anything. In fact, Crist would have gone as far right as he needed to in order to secure what he really wants, and it isn't the Governorship of Florida.
Charlie Crist wants Washington DC, evidenced by how he has never finished holding an elected seat before running for a higher one.
im still waiting on someone to ask him about his stance on gun control. Remember, he bragged about having ab A+ rating from the NRA.
Id ask him the questions that need to be asked, but he seems to be afraid to come on my show.
I challenge whoever Crist think's he is going to get a softball interview from next, to ask him his stance about gun control. Don't let him pivot around the actual question. Hold his feet to the fire and ask the tough questions.
No one is buying his statement that he is focusing on Rick Scott and that is why he won't debate Nan Rich.  Charlie Crist was recently in Bridgehampton hobnobbing with people from The Real Housewives of New York. Yeah, he's too busy alright.
I wonder if he showed up at the Florida Black Caucus' event this weekend? Or did he think opening that Liberty City office was enough for the Blacks.
I couldn't make it, so someone let me know.
When everyone is talking about Rick Scott pleading the fifth on issues surrounding HCA, just remember that Charlie Crist is pleading the fifth on OUR values as a party.
He's counting on your hatred for Rick Scott to blind you to his various flip-flops, questionable friends, and HIGHLY suspect motives for now running as a Democrat.
Ask Nan Rich about her values, beliefs, and why she is running, you'll get the same answer every time. Her core beliefs don't change like most change underwear!
last bit of food for thought: Crist says he never felt right about the Republican Party's view on social issues and different groups, and yet, Charlie Crist was the one who gave us the two most conservative Justices on the Florida Supreme Court!
Wake up Floridians! Although the latest poll shows Charlie Crist behind Rick Scott. Republicans have so much on Crist, it's only  going to get worse. From what I'm told, the real guns are coming out if Charlie Crist gets the democratic nomination.
Crist hadn't seen anything yet.
I, as a Nan Rich supporter, will just sit back and watch the massacre.
with popcorn.
If you liked this post, say thanks by sharing it:

Leslie is the Founder of Women On The Move, and The Democratic African American Women Caucus, www.daawc.com. Follow her on social media for all exciting things concerning these two organizations.

Latest posts by Leslie Wimes (see all)