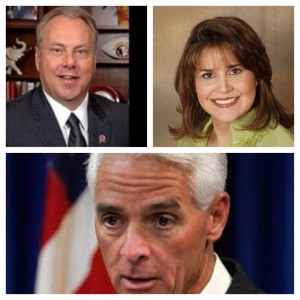 Do you guys remember the song by the late, great Whitney Houston and Deborah Cox? Same Script, Different Cast?  It was one of my favorite duets Whitney did with another woman.
Now in Charlie Crist's defense (shocker!!), he had nothing to do with this at all.
That being said, I swear I can hear Jim Greer singing this song to Annette Taddeo!  Check out these lyrics:
This is a retake of my life
I was his star for many nights
Now the roles have changed
And you're the leading lady in his life
Lights, camera, now you're on
Just remember you've been warned
Enjoy it now 'cause it won't last
Same script, different cast
Sunshine State News came out this morning with a piece on a company called 537 Consulting, llc.  Apparently this company was formed by two Miami-Dade DEC directors, Juan Cuba, Executive Director, and Rachel Johnson, Director of Communications.  According to the article, this company was formed to pay staff at the Miami Dade DEC.  Allegedly the DEC didn't either have the money, or just didn't want to pay social security taxes and other things that go along with a W-2 employee, so 537 Consulting, llc was formed to take care of paying 1099 employees.
First, how is the Executive Director of the Miami-Dade DEC a 1099 employee?
I guess that is something for the IRS to sort out, but I find it hard to believe that the position meets the requirement of being an Independent Contractor.
According to Sunshine State News, a contract was given, but never voted on by the DEC, to award a "political consulting" contract to 537 Consulting.  I went to the Sunbiz.org site, and sure enough, the company lists Juan Cuba and Rachel Johnson as the agents.
Since Juan Cuba is paid as the Executive Director, does this mean he is paid twice?  Once as the owner of 537 Consulting, and then again as the Executive Director, both via 537 Consulting?  Additionally, why wouldn't this contract be put out to bid for other companies?  Wouldn't this situation being handled by a company that isn't owned by one of the Directors seem less like a conflict of interest?
The appearance of impropriety is overwhelming here, especially given what happened with Jim Greer, the Republican Party Of Florida, and Victory Strategies.
Here are some of the transactions listed on Sunshine State News via Miami Dade Division of Elections:
$995.50 on 1/8/14 for valet parking at a New Year's Eve event
$4,200.00 on 1/15/14 for "Dec. 20 invoice for political consulting"
$3,425.00 on 1/15/14 for "Jan. 3 invoice for political consulting"
$8,050.00 on 2/7/14 for "political consulting for the month of January"
$8,050.00 on 3/3/14 for "political consulting for the month of February"
$864.00 on 3/17/14 for "food and event space at Annual Legislative Reception"
$713.00 on 3/17/14 for "Website costs in Jan. and Feb."
$1,479.90 on 3/17/14 for "online advertising on social media platforms."
I would really love to see the actual contract between Miami-Dade DEC and 537 Consulting, LLC.  Is it carrying out all of Miami-Dade DEC's business, as well as payroll?  Political Consulting is broad, but exactly what are all the duties 537 Consulting is performing?  Is there some sort of breakdown as to which part consists of the salaries and which part consists of the compensation for "political consulting"?
Additionally, if the bylaws say "shall" be bonded, I really hope the Miami-Dade DEC can produce something saying the required parties have been bonded all this time……
I have to think Jim Greer is somewhere watching to see if anything comes of this.
If you liked this post, say thanks by sharing it:

Leslie is the Founder of Women On The Move, and The Democratic African American Women Caucus, www.daawc.com. Follow her on social media for all exciting things concerning these two organizations.

Latest posts by Leslie Wimes (see all)