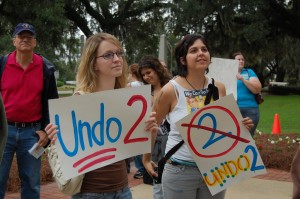 Recently, Equality Florida's Political Action Arm endorsed Charlie Crist over Nan Rich.  First, this was inappropriate before the Primary was held.  Second, Equality Florida seems to be forgetting that Charlie Crist is the VERY reason they are fighting for their rights here in Florida in the first place.  Charlie Crist pushed Amendment 2, and went on record as saying that children should not be adopted by Gay parents.
In 2006, Governor Crist endorsed Amendment 2, an amendment to the Florida constitution that was widely criticized for banning not just gay marriage in Florida but also blocking any other type of same-sex partnership.  The measure also put the constitutionality of extending any domestic-partner benefits to same-sex couples in doubt.
In case Florida's LGBT community has forgotten, I have a little video of Crisco Crist saying how he felt:

Turning their backs on a woman who has stood by the LGBT community before same-sex marriage and adoption by same-sex couples were popular is not something I would have seen coming from the LGBT community.  I guess after Dean Trantalis and his shenanigans regarding Crist, I shouldn't have been surprised.
The question I have for Equality Florida is this:
How can you expect people to stand behind you and support you 100%, but then turn around and throw your supporters under the bus?  Has expediency, or what you think is expediency, taken priority over doing what is right?
Should your supporters in the heterosexual community look at your cause with expediency or what is right?
Think about that for a minute.
I was very please to see the amount of people in the LGBT community who stood up against this endorsement and supported Nan Rich.  I was pleased that a number of them have decided not to give you a cent any longer.
If this is how you treat your friends, then you have no room or right to complain about those who treat you in a manner you don't want.You can't cry foul, then proceed to commit fouls of your own.  It just doesn't work that way.
To add insult to injury, you threw Nan Rich under the bus for the very person who was instrumental in depriving you of your rights here in Florida.
No wonder so many people are side-eyeing you right now.
Charlie Crist knows that you just like the leaders of the Democratic Party here in Florida, are so desperate that he could tell you it was raining while he pissed on you and you would believe it.
Oh wait, he DID piss on you when he pushed Amendment 2.
SMH!
If you liked this post, say thanks by sharing it:

Leslie is the Founder of Women On The Move, and The Democratic African American Women Caucus, www.daawc.com. Follow her on social media for all exciting things concerning these two organizations.

Latest posts by Leslie Wimes (see all)