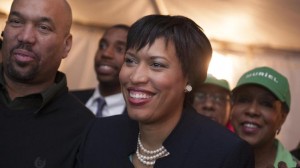 Those search words seem to be leading a lot of people to an article I wrote regarding comments Muriel Bowser made about DC Black women during a debate leading up to the Primary election, in which Bowser prevailed over Mayor Vince Gray.  More and more people seem to be landing on my website while trying to find out about Muriel Bowser's sexuality.  The terms ranged from "Is Muriel Bowser Gay", to "Muriel Bowser's girlfriend".  I find it quite strange that of all the things that can be searched for, Bowser's sexuality is what is causing people to search for her. Enough people have searched these terms to catch my eye.
The question I have is: So what if she is?  Would it really make a difference?
Muriel Bowser is now the Democratic nominee for Mayor of DC.  She will be running against David Catania, a Republican-turned Independent, who is openly gay.  Bowser has started trying to make change for D.C. already.  She recently introduced legislation  that would make it a misdemeanor to intentionally distribute sexually explicit images or video without consent, which is more colloquially known as "revenge porn."
"Revenge porn is the kind of abhorrent behavior on the internet that we must do all we can to stop," Bowser said in a release. "Protecting our residents from serious harm and maintaining their privacy on the web is an important priority of mine."
The Relationship Privacy Protection act would make the misdemeanor punishable by up to one year in prison and a fine of up to $2,500 for "distributing revenge porn with the intent to cause serious emotional distress." The bill would also make it a felony punishable up to five years in prison and a fine up to $12,500 for third parties that knowingly distribute.
Perhaps because of that legislation, people have become more interested in her personal life.  Here is a little background on Bowser.
Bowser attended Elizabeth Seton, an all-girls high school in Bladensburg, Md.  She also attended Chatham College, a small, women's liberal arts school in Pittsburgh.
Bowser lives alone in a home in Riggs Park that she bought 13 years ago for $125,000. Professional, single Black Women have taken heat over the last few years, with studies being done on why this group of women aren't married.  Take a look at this article that came out in 2009, Marriage eludes high-achieving Black Women.
In an interview, Bowser said that she is not in a relationship.
"I would love to get married," she said. "I'm waiting for the right, perfect guy to show his face. Who wants to deal with being followed by The Washington Post? Do you know anybody?"
Now while I don't think that is sound reasoning behind not dating/getting married, why is that even a concern.  If I were Bowser, I just would have simply said I haven't found the right person yet, end of story.  I don't think there is a need to go any further.
Clearly, though, by the amount of people hitting my site searching Muriel Bowser's sexuality, it is something that is important to some people in Washington, D.C.  Every search using those types of terms have come from Washington, D.C.  area.
Is that an issue there?  D.C. seems to be one of THE most progressive places in this country.  Would it really make a difference if Bowser were actually gay?  Given the fact that David Catania has pretty good support there, I'm guessing it wouldn't.
What's the worst thing that could happen, D.C.?  You would definitely end up with a Mayor who is gay, and I don't particularly think that is a bad thing.
It would be a great coup for the LGBT Community!
If you liked this post, say thanks by sharing it:

Leslie is the Founder of Women On The Move, and The Democratic African American Women Caucus, www.daawc.com. Follow her on social media for all exciting things concerning these two organizations.

Latest posts by Leslie Wimes (see all)