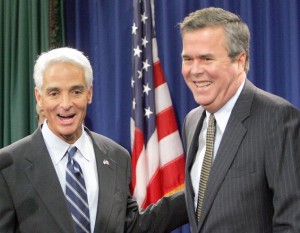 Charlie Crist has consistently praised Jeb bush.  When going around on the talk show circuit, he uses Jeb Bush as the barometer for bashing his once-upon-a-time Republican party. According to Chain Gang Charlie:
Jeb Bush said it better than I can say it. He said today's Republican Party is perceived as being anti-women, anti-immigrant, anti-minority, anti-gay couples, anti-environment, anti-education. I mean, pretty soon, there's nobody left in the room.
Now, not to say that there is no truth to that sentiment, I just don't believe that Charlie Crist feels that way.  I'm pretty sure that the reason he will not debate Nan Rich is because the voters would see that he does not believe this new position he has taken.  He is banking on winning the primary, and then at that point Democrats REALLY have no other option but to vote for him.  According to voters I've talked to, that might not work out so well in a general election, however. See my article here.
Now back to this obsession Crist has with Jeb Bush. I've been trying to figure out why Crist is so intent on using Jeb Bush to explain his departure from the party he had been with for the majority of his political life.  Since there is a lot of talk of Jeb bush possibly running for President in 2016, I wondered if perhaps Crist was trying to angle his way into a VP selection.  Even though that was Charlie's game plan in 2008 with John McCain, I shook that off because there is no way in Hades that Jeb bush would even consider Crist for dog catcher, let alone Vice President.
Charlie Crist IS up to something, though, because it seems every move he makes is calculated on how to best advance his agenda, which has always been what Charlie Crist was about.  Has he ever completed an elected position prior to running for something else?  I can't think of one, so if anyone knows, please let me know.
Since Charlie Crist likes to rely on what Jeb Bush says, to emphasize points, I'd like to do the same.  Jeb Bush said it better than I can say it, to use Crist's own phrase.  According to Bush:
He organized his life around his personal ambition and ran in a primary where he was the odds-on favorite, didn't offer a compelling reason to be elected to the Senate. Marco Rubio cleaned his clock and beat him in the general and now he's trying to find a way to get back into the political game. It has nothing to do with principles or ideas, it has to do with his ambition.
It has everything to do with his ambition, and nothing to do with principles or policies.  Charlie Crist cares about one person.  Charlie Crist.
Charlie Crist is the consummate politician, and he knows how to play the game.  Right now, he is playing the Democrats.  I realize that the Florida Democrat Party sees Crist as their only chance to win back the governor's mansion after 20 years.  At this point, Crist is leading the party around by the nose.  I guess it could be those regular donations his Super Pac, Charlie Crist For Florida, makes to the Florida Democrat party.  It's over $600,000 dollars at this point, with the last "contribution" coming April 3, of $150,000.
I realize that money talks in politics, but does ANYONE in the Florida Democrat party care about the principles and policies that this party is based on?
Anyone?
If you liked this post, say thanks by sharing it:

Leslie is the Founder of Women On The Move, and The Democratic African American Women Caucus, www.daawc.com. Follow her on social media for all exciting things concerning these two organizations.

Latest posts by Leslie Wimes (see all)