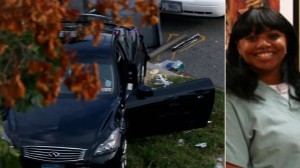 Miriam Carey, the unarmed mother who was shot to death on Capitol Hill, still deserves answers. The American public still deserves answers. I'm not quite buying the whole psychotic angle that was presented to us to justify her killing.
Are you?
Miriam Carey, 34, a dental hygienist living in Stamford, Conn., "may have thought President Obama was stalking her" when she steered her black Infiniti, with her 1-year-old daughter sitting in the back, onto some of the nation's most highly guarded territory, according to a law enforcement official.
Nahh. I'm not buying it.
Soon, those authorities are going to have to lay all of their cards, and information not released to the public, on the table. You see Miriam's family has brought a 75 million dollar wrongful death suit against the Capitol Police and the Uniformed Division of The Secret Service.
Good. They should sue. They won't get any answers otherwise!
"While the United States Department of Justice continues with its' criminal and civil rights investigation, the Carey Family calls for immediate identification and termination of all police officer, supervisors, managers and other related employees' involved in this matter who failed to order the immediate termination of pursuing Miriam and failed to establish firearms control; thereby, collectively causing the avoidable death of Miriam," attorney Eric Sanders said in a statement.
Sanders' firm is representing the Carey family in this case.
Congress has thus far declined to investigate. A spokesperson for the majority on the House Administration Committee, which has jurisdiction over the Capitol Police, did not immediately respond to request for comment, and more than likely, won't.
I guess Miriam needed to be Phillip Seymour Hoffman in order for anyone to care about her, instead of a working single mom who was shot dead, instead of overdosing.
I'm just saying.
UPDATE:
Miriam Carey was shot FIVE times, according to the autopsy report.  FIVE times!
If you liked this post, say thanks by sharing it:

Leslie is the Founder of Women On The Move, and The Democratic African American Women Caucus, www.daawc.com. Follow her on social media for all exciting things concerning these two organizations.

Latest posts by Leslie Wimes (see all)