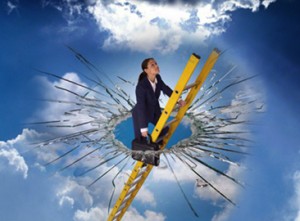 When it comes to the proverbial glass ceiling, I can't help to share with you that at least 50 percent of the time, the shoes I see on the glass above me are high heels. Admittedly, I'm slightly unbalanced in my views when it comes to voting for women. I'm a registered Republican, but some years back I started the Women's Party of America. It's not a real party with caucuses or candidates. It's an idea, a refuge so that women could have their own views without the official parties labeling us. And, we have been labeled with one very big ink pen on both sides.
Our issue, which has been chosen for us, is Abortion – ProChoice or ProLife. We're pigeon-holed into the two parties by our feelings toward Abortion and yet, it isn't Abortion that is the issue for many of us. Abortion is a word that affects a woman who is raped, assaulted, or any other form of abuse. No one likes Abortion. Obamacare wants companies to cover birth control to presumably reduce the number of Abortions. These same companies cover Viagra to provide men with control over their bodies, but not birth control so that women have the same. Companies like Hobby Lobby think that's a violation of their rights. The irony is not lost on women.
The Democrats are proud to have allowed women the opportunity to keep Abortion legal and the Republicans continue doing what they can to abolish it, but no one wants to talk about why it exists. Women have been silenced by both parties using Abortion to gain their support, but neither the Democrats nor the Republicans have ever done anything to advance women's rights because we vote in men who want to advance their rights. Diversity is everything, which brings me back to my vote.
No matter what, unless a woman is clearly insane and sometimes even then, I always vote for the woman on the ballot. I catch hell from other women for doing this, but I've yet to see a politician keep a promise so it is more important to me to add the female perspective. A 17 percent perspective in the U.S. Congress isn't enough. When we had the recent ice storm in Atlanta, there were no women standing at the press conference as stakeholders in the emergency plan. We could have used that input. Maybe then the buses would have been sent to the elementary schools first to pick up the children so they weren't stranded overnight.
Lastly, let's talk about EMILY's List and Florida, the state where I grew up. In the Florida Gubernatorial race, the incumbent is Rick Scott, a Republican. For the Democrats, Charlie Crist, a former Republican (who still has all the same ideals) is running against an accomplished former Democrat, State Senator/former Minority Whip Nan Rich. EMILY's List's mission is to "Elect ProChoice Women Candidates." Rich has a 100 percent voting record for women, gays, equal rights, etc. And yet, EMILY's List has completely LEFT NAN RICH off of their list for Florida. Completely. So not only is there no endorsement, if someone goes to the EMILY's List website for information, Nan Rich is nowhere to be found. Why? How?
Women should be outraged. Republican women, Democratic women, Independent women, All women. You can read more about EMILY's cold shoulder at Sheownsit.com. I encourage you to reach out to EMILY's List for an explanation. Hundreds have, but none has been given.
In the end, you are a woman and should be represented by a group of their peers. EMILY's List has forsaken us. Time to do go this alone.
If you liked this post, say thanks by sharing it:

Kathy Scott is the founder of "Me and My 1000 Girlfriends, That's Who!" now with more than 3100 GIRLFRIENDS on her Facebook page.She started the page in February 2010 when she found she could not get a return phone call from her local city council members on issues related to a city garden foundation, a foundation in which she sat on the board.She asked her GIRLFRIENDS to mount an email campaign, which they willingly did.

Latest posts by Kathy Scott (see all)