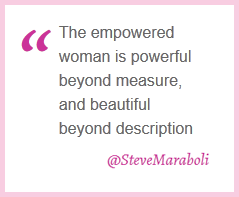 Forward-Thinking, Intelligent Women dedicated to making the world a better place.
Our Mission Statement is to create a positive, inspiring, and culturally diverse environment that encourages women to make it happen for themselves.
Women on the Move is the "go to" place where women can learn, share, and execute ideas to make each other stronger. Whether you are looking for resources to help with your business, or help in your personal life, Women on the Move is your place to find it all.
On our website you'll find guest bloggers, advice columnists, and our award winning internet radio show. No matter what you are looking for, you can find it here.
We encourage women too contribute not only to the site, but in helping Women on the Move in their local communities. We want women to be involved whether it's politics, business, health, fashion or beauty both on and off our website.
You can contact Women on the Move with questions, concerns, interests, and ideas! This site was created for you and is about you: The Woman on the Move!