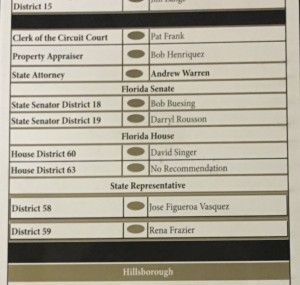 Despite the Florida Democratic Party providing President Barack Obama with a list of Democratic legislature candidates that included Lisa Montelione running for House District 63 against Republican Shawn Harrison, the Hillsborough County Democratic Black Caucus said not so fast.
The HCDBC put out a slate card for its members and the black community that had a "no recommendation" for the HD63 race.
Ouch!
Lisa Montelione is facing Republican Shawn Harrison in the HD63 race, who you may recall, received the endorsement of the well-respected Frank Reddick.
In fact, Lisa Montelione has not received the endorsement of any of the local African American elected officials.
I believe she dipped all the way down to South Miami to Khionne McGhee to get an endorsement.
Damn!
According to an email sent out by HCDBC president, Robin Lockett, Montelione does not address any of the Black community's issues and concerns, and therefore, the "no recommendation" was the best she could get.
There were a couple of members of the Caucus who still had that plantation mentality, and despite a vote that overwhelmingly decided the "no recommendation" decision on Montelione and the backing of the majority of the Caucus members, President Lockett had to straighten those individuals out.
Here is an excerpt obtained from the email:
"We have been loyal democrats and if someone was speaking or acting upon our issues, we would not be having this discussion! So, for the HCDBC, to put a candidate on our slate card that has not supported our issues i.e., supporting Pam Bondi- Host Committee; Supporting Toledo and both are republicans and yes the DEC wanted to sanction her, kick her out or do something to her but Oh, she had not signed a loyalty oath. (I was in that meeting), but this candidate who was an elected official has voted against any compromise regarding the citizens review board which would have helped the black community, The Carver City community coming out to defend their community issue and she did not support it; and the mere fact that she along with others did not support Frank Reddick as Chairman and had to vote 13 times to pull that coup and Everyone was upset about that, but yes as usual we forgot and I know some of you were beating his door down for his endorsement so there I assume is some type of respect there for him. There are no local leaders thus far that have come out to endorse her, and no we can not include President Obama, lol, he was provided a list by the FDP and if he knew what she has done, I know he would have issue with it."
You go Robin Lockett!!
Now there is a Black Caucus President who is standing up for her community! Why just vote for someone simply because they have a D by their name when they aren't addressing your community's needs?
Perhaps Robin can teach the state Black Caucus a thing or two!
I guess Montelione should be happy with the NR, which means neither yes or no.  I would have told people not to vote for her AT ALL!
If she can't be there for the Black community, the Black community should NOT be there for her!
As my grandmother says, show her that fat meat is greasy!!
Start calling these candidates that don't address issues that are important to the Black community out! If they are only coming around during election time, don't give them your vote!
More Black voters need to become issue-oriented, and pay attention to who is concerned with your issues and who isn't. Pay attention to who is walking the walk, and who is just talking the talk. For God's sake, stop putting all of your eggs into one basket and stop simply voting because there is a D by a candidates name.
Take control of your political destiny.
If you liked this post, say thanks by sharing it:

Leslie is the Founder of Women On The Move, and The Democratic African American Women Caucus, www.daawc.com. Follow her on social media for all exciting things concerning these two organizations.

Latest posts by Leslie Wimes (see all)