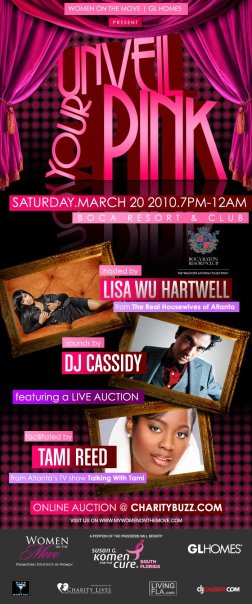 "Unveil Your Pink"
Saturday, March 20, 2010 at 7:00 pm at the Boca Raton Resort & Club
Come enjoy an evening that includes games of chance, delicious food, spirited drinks…hosted by LISA WU HARTWELL of The Real Housewives of Atlanta!
Be on the lookout for Bravo filming the event and possibly catching you on camera!!! Sounds by DJ Cassidy who's previous clients include…Jay-Z, Beyonce, Diddy, Russell Simmons & President Obama.
Specialty Martinis by Blue Martini-Pink Passion & Bubblicious!
Keep checking back for our next event!
If you liked this post, say thanks by sharing it:

Leslie is the Founder of Women On The Move, and The Democratic African American Women Caucus, www.daawc.com. Follow her on social media for all exciting things concerning these two organizations.

Latest posts by Leslie Wimes (see all)