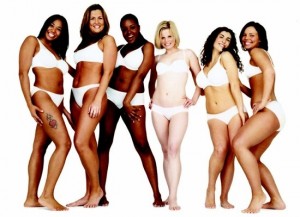 Do you constantly find fault with your body? Do you notice what is wrong before you notice what is right? If you answered yes to either or both of those questions, then you are NOT Body Confident. Granted, The United States is riding a wave of Obesity larger than ever before, however, it is still unclear in MY mind just what constitutes Obesity. The charts used to determine who is overweight or obese are suspect, in my opinion.
A person can be healthy and not be a size 4. Not to mention the average size for Women these days is a size 14. Yes, I said it! THE AVERAGE SIZE OF A WOMAN IS A 14.  There is absolutely nothing wrong with women having voluptuous curves! In fact, people are getting injections and implants to have that Beyoncé Bootylicious look. In checking with a few Plastic Surgeon friends of mine, people are requesting a full, round, "donkey booty" more than breast implants!
So why is this not being reflected on the runways?
Well, because Fashion is still being run be Gay males. Until we get these designers to change their outlook on what is acceptable in the Fashion World, we will still see the rail-thin models on the runways, and the airbrushed thin models in the magazines.
Now by no means do I think a person should be unhealthy. To be sure, unhealthy can be overweight AND underweight. Shouldn't that be the concern, health?
A lot of my male friends actually say they prefer a woman with meat on her bones. They love that Kim Kardashian look.
Women have got to be more confident in their bodies, no matter the shape or size. Beauty comes in all types of packages, not just a size 2. Are you listening Anna Wintour?
If you liked this post, say thanks by sharing it:

Leslie is the Founder of Women On The Move, and The Democratic African American Women Caucus, www.daawc.com. Follow her on social media for all exciting things concerning these two organizations.

Latest posts by Leslie Wimes (see all)