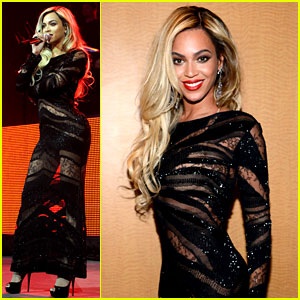 Seriously. She really is. Beyoncé has the Midas Touch with everything she does. From her illustrious career, her marriage to Jay-Z, to her beautiful daughter, Blue Ivy.
Add to that the fact that she is just Gorgeous. I'm not sure any other entertainer holds a candle to her. James Brown was the hardest working man in show business. He passed that crown to Michael Jackson. The crown now belongs to Beyonce! I swear that Woman On The Move is always reinventing the game before her competitors get to square one! Actually, she HAS no competition!
This Roberto Cavalli dress looks amazing on her! She certainly is in incredible shape! Her Grammy appearance was flawless, and she keeps topping one flawless look with the next. Her stylist should be proud! Her husband should be proud! We all know the BEYHIVE is always proud!
Beyonce makes it look easy, and she looks spectacular while doing it!
If you liked this post, say thanks by sharing it:

Leslie is the Founder of Women On The Move, and The Democratic African American Women Caucus, www.daawc.com. Follow her on social media for all exciting things concerning these two organizations.

Latest posts by Leslie Wimes (see all)