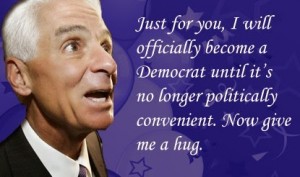 And what did he do?  He changed his stripes.  Charlie Crist talks about trust, but can we REALLY trust him not to "change his stripes" again?
After all, as he put it in this video, it's an election year.  That means he will say anything, do anything, be anything, to win.
He clearly says that he is a "Conservative".  Pro- Life, Pro-gun, Pro-family.  This was 2010.  This wasn't the 2006 robo-calls going around.  This was 2010 when Crist wanted to be a US Senator.  Now that he wants to be Governor again, and Republicans won't have him, he is exercising his only option:  Hoodwink Democrats!!
Crist says here that he doesn't want to over-turn Roe v. Wade, but he clearly says that he is a Common-Sense Conservative who is Pro-Life.  He doesn't want to change laws, but he wants to change hearts.
What is he going to do, stand on a picket line and try to convince women that abortions are bad?  Supply false literature to women to convince them that abortions cause cancer?  Exactly how does charlie Crist plan on convincing anyone not to exercise their right to control their bodies?  Tell us Charlie.  We want to know!
Can he be trusted to not change his stripes if Democrats send him to the Governor's Mansion? That's the more pressing question at hand!
If you liked this post, say thanks by sharing it:

Leslie is the Founder of Women On The Move, and The Democratic African American Women Caucus, www.daawc.com. Follow her on social media for all exciting things concerning these two organizations.

Latest posts by Leslie Wimes (see all)