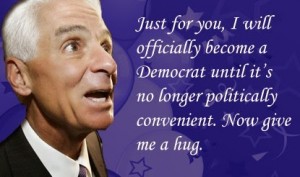 I know it's Monday, and we have Throw-back Thursdays, however, I can't wait until Thursday.  Let's have Throw-back Monday with Charlie Crist-isms.  Ready?  Take a long, long look!
Where was this love for President Obama that Charlie Crist now Espouses? He didn't do it in THIS video! He touted Sarah Palin!
The Democratic Senatorial Campaign Committee had it right in THIS video!
Charlie Crist says: Senator McCain and Sarah Palin need you to get out and vote!! Listen to what he says about John McCain!!
Charlie Crist: "I'm doing everything to help the [McCain-Palin] Campaign!
John MCCain and Charlie Crist at Scott Rothstein's House
Charlie Crist on Cuba. Ha!
Charlie Crist opposed Justice Sotomayor, but he couldn't remember why. Ha! Where is Dan Gelber when you need him??
Charlie Crist: Barack Obama has the same tired answer, to spend more of your money!
Charlie Crist: The Change we got [with President Obama] may not be the change america wants!
Please do not be fooled by Charlie Crist on August 26, 2014. He isn't the progressive he is now portraying himself to be. He is attempting to fool Democrats in order to become a power player again. Florida is important. Charlie Crist is using Democrats and Florida to further his own personal agenda. Look again at the videos of Charlie Crist, in his own words, and ask yourself: Does a person change THIS much?
I have common sense, and common sense says no.
If you liked this post, say thanks by sharing it:

Leslie is the Founder of Women On The Move, and The Democratic African American Women Caucus, www.daawc.com. Follow her on social media for all exciting things concerning these two organizations.

Latest posts by Leslie Wimes (see all)