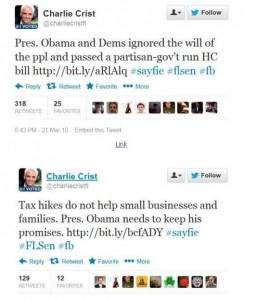 Seriously. For a very, very long time, these two could have been Siamese twins. They were lock-step in their beliefs. Republicans til the end.  Both wanting to win at all costs. Shave one's head (Crist) and put the hair on the other(Scott) and you couldn't tell the difference.
That is, until Charlie Crist lost the Republican primary for US Senate. Things changed then. Most notably, Charlie Crist's party affiliation. He decided he was Independent.  Because he lost the Senate primary, he was taking his marbles and going home, like quite the petulant child, leaving the Republican party sandbox forever.  He was going to show those Republicans. How dare they decide that they wanted someone else?
Charlie Crist ran for Senate as an Independent.  Just like in the primary, Charlie lost the general election for US Senate. What did Charlie do, you ask? He gathered his marbles and went home, again, like the petulant child, leaving the Independent party sandbox forever.
Charlie Crist is now running for Governor.  You guessed it! He is now a self-proclaimed DEMOCRAT! He has decided to join the Democrat party sandbox.
Above party, above policy, above people, Charlie Crist wants to win, and he will DO anything, SAY anything, BE anything, to do it.
Democrats deserve better. Much better. Florida deserves better. Much better. Because Florida always plays a role in Presidential elections, the UNITED STATES deserves better. Much better.
How do Floridians know that Charlie Crist, once in office, isn't going to revert back to his true roots. Change his party affiliation once again.  There is nothing to stop him from doing it.  He can't be recalled. Florida's Constitution doesn't allow it.   He spent the majority of his political career as a  Republican. The ONLY reason he changed is because he lost. It isn't because he had some sort of epiphany.  He wants to be in office, and he doesn't care under which party label he does it.
I don't think Charlie Crist is 100% behind anything except Charlie Crist.
A lot of Florida Democrats have embraced Charlie Crist.  They act as if they have forgotten his history, like they haven't learned anything at all.  Well guess what? History DOES repeat itself, and so will Charlie Crist.
Oh, and for those of you who say Charlie will win. Have you seen the latest poll numbers? If not, take a look  here.  Crist is not ahead by much.  More importantly than that, 34% of the people polled aren't voting for either Crist or Scott.
Florida does have another Democratic option, and that option is  Nan Rich , only The Powers That Be don't want Floridians to know who she is. Emily's List won't support her, even though they have always supported her in the past. Democrats are ignoring her, but that won't last because she has a grass-roots group of people who are determined to get the word out.
Will Charlie Crist be another Alex Sink scenario? Everyone thought she was going to win too.  Guess what? She lost.
If you liked this post, say thanks by sharing it:

Leslie is the Founder of Women On The Move, and The Democratic African American Women Caucus, www.daawc.com. Follow her on social media for all exciting things concerning these two organizations.

Latest posts by Leslie Wimes (see all)