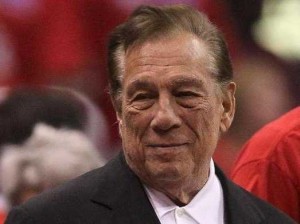 Unless you've been totally closed to the outside world, you've heard the racist recording of a conversation between Donald Sterling and his girlfriend V. Stiviano.  TMZ broke the story.  Sterling was very upset that his girlfriend, who is of Black and Mexican descent, had posted a photo on her instagram account with Magic Johnson.  Sterling didn't want his girlfriend to show her association with Black people publicly.
— "It bothers me a lot that you want to broadcast that you're associating with black people. Do you have to?" (3:30)

— "You can sleep with [black people]. You can bring them in, you can do whatever you want.  The little I ask you is not to promote it on that … and not to bring them to my games." (5:15)

— "I'm just saying, in your lousy f******* Instagrams, you don't have to have yourself with, walking with black people." (7:45)

— "…Don't put him [Magic] on an Instagram for the world to have to see so they have to call me.  And don't bring him to my games." (9:13)

Sterling has a documented history of allegedly racist behavior — he's been sued twice by the federal government for allegedly refusing to rent apartments to Blacks and Latinos.

He was also sued by former Clippers exec Elgin Baylor for racial discrimination — though a jury was ultimately not convinced and shot down Baylor's case.

Sterling has been separated from his wife Shelly for years.  She remains a key player in running the team and sources tell us she's "mortified" by Sterling's comments.
The country is still reeling over comments made by Cliven Bundy, the  rancher who claimed that perhaps Black people were better off as slaves.  Bundy was embraced by the likes of Sean Hannity, Glen Beck, and other Republicans, hoping to make him some sort of folk hero based on his standoff with the government over illegal grazing, and fees that he owes in the sum of a million dollars.
The United States can never get over the stain of slavery, and the resulting racist attitude of some people, with the Clive Bundys and the Donald Sterlings of the world.  It doesn't matter which party, racists exist in both.  As much as we'd like to think we are living in a post-racial society, we are not.  While Republicans tend to be more overt with their racism, Democrats have their fair share as well.
It is going to take people from all walks of life to get rid of racism.  Minorities can't do it alone.  Racist attitudes can not be tolerated, and we, as a country, need to swiftly rebuke those that do not adhere to the principle that all men are created equal.
The irony of the Donald Sterling case, aside from the fact that his girlfriend is of Black and Mexican descent, is that he makes his money off Black Men.  Sterling is the owner of the LA Clippers.  The NBA is made up of predominantly Black players.
Sterling clearly has that slave owner mentality:   Make money off of Black Men, sleep with Black Women.
This, in the United States Of America, land of the free, home of the brave.
Most Americans like to pretend that the USA is the most free, wealthiest, most productive nation in the world and that we are a force for good in the "free world".
None of the myths or dreams of American exceptionalism have ever come true for certain parts of our society.  With people in power having the views of Donald Sterling, they never will.
I like what Charles Barkley said.  When most everyday people speak racist, hateful comments, they are just ignorant.  When people in power, who have the ability to cause harm,speak and feel this way, they are the true racists.
With The Supreme Court upholding that ban on affirmative action for college admissions in Michigan, we can only hope and pray that those making decisions don't share the views of Donald Sterling.
Instead of embracing our differences as a strength, this country seems to use differences to divide.
Hateful racists should have no place in America, and yet they do.
Everywhere.
Donald Sterling makes it clear.  It doesn't matter if you are successful, like Magic Johnson, Oprah Winfrey, or even President Barack Obama.  What matters most to racists is the color of your skin, and as long as it is dark, you aren't equal.
A dear friend, and co-host of our weekly show, The Round Table,  put it perfectly:
the Civil Rights Act is an undeveloped foundation, and it is the same about the Constitution.  Instead of developing and adjusting to the times, it became sacrosanct, with people misinterpreting and misquoting as they do the Bible, and even bigger idiots like Justice Scalia insisting that antiquity written during a time of great oppression for blacks, poor, women, and children (gay people didn't exist in 18th century USA) should be read as a literal manual for modern law-making. 
God Bless America.
If you liked this post, say thanks by sharing it:

Leslie is the Founder of Women On The Move, and The Democratic African American Women Caucus, www.daawc.com. Follow her on social media for all exciting things concerning these two organizations.

Latest posts by Leslie Wimes (see all)