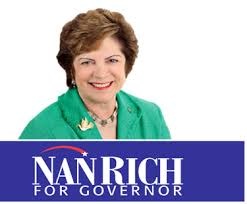 Last night I had a wonderful interview with Nan Rich, former State Senator, and current candidate for Governor, for the state of Florida.  You can listen to the interview Here.  Who is Nan Rich, you might ask.  Well, you wouldn't be alone. A lot of Floridians, and the rest of the country for that matter, don't know who this spectacular woman is. We need to change that.   Read about Senantor Rich on her website. While former Governor Charlie Crist, who is also running for Governor of Florida, is a very well-known name, he isn't the only candidate Democrats have to vote for.
I'm very disappointed at the lack of support Senator Rich has gotten from the Florida Democrats AND the National Democrats.  It's as if they have completely brushed this very qualified, progressive, life-long Democrat aside.  They have made Charlie Crist the heir-apparent to the nomination.  So has Main-Stream Media.  Yes, Charlie Crist is well known, but Nan Rich would also be well-known if she had support from the party that she has dedicated her entire life to.
Emily's List, who says their mission is to get progressive women elected, doesn't even have Nan Rich on their site! Their "list" of women running for Governor across the country doesn't include Nan Rich.  See for yourself:  Emily's List
Isn't Emily's List's mission to get progressive WOMEN elected?  What happened here?  Why isn't Nan Rich even listed?
Charlie Crist is very shrewd.  He has refused to debate Nan Rich on the issues.  Is it because a light would shine on his changing positions?  I don't think so.  I think the real reason Charlie Crist won't debate Nan Rich is because she would then have a platform for people who aren't die-hard politicos to see who she is.  That scares Charlie Crist more than his ever-changing positions and parties.
How can I take you seriously, Emily's List, when you don't help ALL progressive women candidates like you say you do? My good friend and fellow supporter of Women, Kathy Scott, is joining me in this quest for why Nan Rich isn't embraced by Emily's List and others.  Read her great article on Me And My 1000 Girlfriends
Let me make it clear that I respect the work Emily's list does, and has done.  this decision, however, is baffling. I apparently am not the only person who has been trying to get answers about this blatant snub of Nan Rich by Emily's list.  Read this article that appeared in Sunshine State News. Emily's List endorsed Nan Rich previously, so something other than her politics is keeping this PAC from helping her now.
I'm waiting for an answer.
update: After contacting Emily's list, I was told that they hadn't yet endorsed Nan Rich, but were "keeping an eye" on the race.  Really? What could possibly be the reason Emily's List, who prides themselves on supporting progressive women candidates, hasn't endorsed Nan Rich? It certainly can't be because she is behind Charlie Crist in the polls, after all, while Emily's List hasn't "recommended" Heather Mizeur in Maryland, they added her to the "list" , allowing exposure and donations, and she trails Lt. Gov. Anthony Brown AND Attorney General Doug Gansler in the primary race for Governor.
update2: after Alex Sink's loss, I contacted Emily's List again.  They quickly got Alex off the front page, but still no Nan.
update3: Emily's List remains tight-lipped about this Nan Rich snub, and has even become somewhat hostile to questions.  The plot thickens.
So I ask again, what is the REAL reason Emily's List hasn't "listed" Nan Rich.
Inquiring minds want to know….
Follow Leslie on twitter: @womenonthemove1
If you liked this post, say thanks by sharing it:

Leslie is the Founder of Women On The Move, and The Democratic African American Women Caucus, www.daawc.com. Follow her on social media for all exciting things concerning these two organizations.

Latest posts by Leslie Wimes (see all)