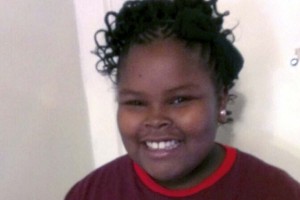 Over the past few weeks, we have discussed on The Round Table the heartbreaking case of 13 year-old Jahi McMath, the young girl who went into Children's Hospital, Oakland, for a tonsillectomy and adenoidectomy. What ensued after that is about as painful a thing that could ever happen to parents. Having to hear medical personnel declare that your child is dead and that they were going to remove your child from the only thing that is keeping her body alive, a ventilator. No one knows what happened to Jahi. Until an autopsy is performed, we will never know.
As a Registered Nurse, I know that once there is no brain activity at all, a person is legally dead, and a hospital does not have to seek permission from family members to remove the person from life support. Children's Hospital was prepared to do just that. Jahi's family went to court, because they feel that Jahi can recover.
Hope is a very powerful thing. Faith is a very powerful thing. Acceptance is also a very powerful thing. The family of Jahi has hope. The family has faith. The family does not accept, however, that their loved one is no longer in the shell that we call a body here on earth.
After numerous court procedures, Jahi's mother was allowed to remove Jahi from Children's Hospital, to an undisclosed location for further treatment. Realistically, there is no treatment that would ever bring someone who has no brain activity back, and eventually, what will happen is the ventilator will no longer sustain the body, and it will begin to break down. Some say this has begun to happen to Jahi already.
As a mother, I understand the anguish and the pain of the family. As a healthcare provider, I know that what is happening shouldn't be happening.
It is time to let Jahi's body go. Let her body rest in peace. It has been through so much already.
If you liked this post, say thanks by sharing it:

Leslie is the Founder of Women On The Move, and The Democratic African American Women Caucus, www.daawc.com. Follow her on social media for all exciting things concerning these two organizations.

Latest posts by Leslie Wimes (see all)