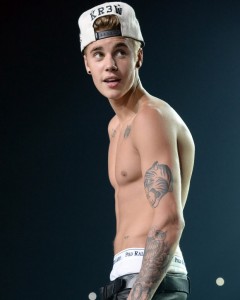 According to Florida celebrity site Gossip Extra, Justin Bieber was arrested early this morning for an alleged DUI.  Bieber, who has been in the news quite a bit these days, and not for music or anything positive, reportedly was driving a rented Lamborghini under the influence when he was stopped by the police.
Apparently Bieber wanted to drag race, and like typical hangers-on who really don't care about the welfare of their "friend", members of his entourage blocked traffic with their cars so that he could do so. SMH. Where is this kid's family? Does he not have anyone that truly cares about him and not his money, fame, or the spotlight?  I have a terrible feeling that he may go the route of other young, rich, famous people: DEAD BY 28.
He's been seen in strip clubs, hanging out with Lil Wayne, and recently his house was raided. Something is wrong with him.  While this story is still developing, I'm sure there is another right around the corner waiting to happen.
Justin Bieber has somewhat of a fairytale story, being discovered by Usher and now having the world at his fingertips.  Is it too much for him to handle? It certainly is starting to look like it.
He is clearly screaming out for help.  The question is will he get it in time!
If you liked this post, say thanks by sharing it:

Leslie is the Founder of Women On The Move, and The Democratic African American Women Caucus, www.daawc.com. Follow her on social media for all exciting things concerning these two organizations.

Latest posts by Leslie Wimes (see all)