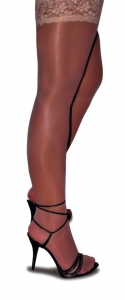 Once again, a predominantly male panel, this time The Supreme Court of The United States, will be deciding issues related to a woman's body.
I don't know about you, but I'm sick of others deciding issues that should be between a woman, her doctor, and any one else SHE chooses to include.  Frankly, it is none of anyone's damned business what goes on between my legs.  It is none of MY damned business what goes on between anyone else's legs.  Especially to the point of wanting to dictate what a woman can legally do with her Lady Parts!!!
The owners of Hobby Lobby, as well as another company, are arguing that they don't want to provide insurance according to the Affordable Care Act, that would cover Intra-Uterine Devices (IUD's) and the Plan B pill.  Now it must be noted that any other type of contraceptive is ok with these evangelical owners, just not what "they" consider abortifacients.  It doesn't matter that these two things are not classified as abortifacients by the FDA, argues Hobby Lobby et. al., what matters is what the owners "believe".
I'm not trying to take away anyone's right to believe what they want, and act according to their beliefs.  One of my questions, and I do have a few, is why are "Christians" trying to use their beliefs as weapons? Let's face it.  People need jobs, and Hobby Lobby has done a pretty good job of providing them.  They also pay their employees above minimum wage, so with them, I'm not doubting that this is truly their belief.  The problem comes when other "beliefs" start creeping in.  If it is against their religion to provide coverage that covers drugs they don't like, what happens when someone says Homosexuality is against their religion, so they don't want to serve or hire anyone from the LGBT community? Same thing goes for other minorities.  Religion is a broad based thing, and now-a-days, everyone is practicing all types of things they call "Religion".
There are people who say Vaccinations are against their Religion.  Are they then able to use the same reasoning to keep you from being covered for vaccinations?  God forbid you are employed by a Jehovah's Witness. You can forget about getting Blood Transfusions!!!
I'm not saying Hobby Lobby will do this, but we all know that there are those that, if the Supreme Court were to actually side with Hobby Lobby,  will use the religion angle to be nothing more than bigots.  Make no mistake about it, that WILL come, depending on this ruling.
We need a woman in the White House, we need more women in Congress, and we definitely need more women on The Supreme Court.  Women On The Move will be doing our part to help that happen.  I hope you will too!
If you liked this post, say thanks by sharing it:

Leslie is the Founder of Women On The Move, and The Democratic African American Women Caucus, www.daawc.com. Follow her on social media for all exciting things concerning these two organizations.

Latest posts by Leslie Wimes (see all)