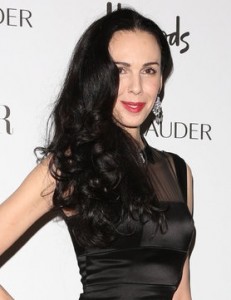 God made people to love, and things to use.  Not things to love and people to use.
I live by that.
To me, money and things come and go. Every THING is replaceable. People, on the other hand, are not.  Have we become a society where money and things trump people? Are appearances so important that people are willing to take their lives because they no longer have the status they once had?
Recently, L'Wren Scott took her life.  I don't know why she did.  What could possibly be so bad that life is no longer worth living. There are many people who think ending it all is the only answer.  That is never the case, and I wish I could just speak to these people to let them know that suicide is never the right answer, no matter WHAT the question is.  According to Radar Online L'Wren was having financial difficulties with her business, and didn't want to ask her boyfriend, Mick Jagger, for help:
L'Wren Scott's tragic suicide on Monday "shocked and "devastated" her Rolling Stones boyfriendMick Jagger, but the fashion designer was reportedly $6 million in debt and was"embarrassed"over her clothing empire crashing.

The 49-year-old canceled her London Fashion week show in January and her company, LS Fashion LTD, filed documents in the UK declaring that they were $5,899,548 in debt according toMail Online.

Prior to being found by her assistanthanged in her $5.6 million luxury NYC apartment, she also reportedly owed her creditors $7.641 million but always refused help from her rock star boyfriend, who is worth a reported $300 million and a source told them she was "embarrassed" by the financial crisis.
Loved ones don't see you as a burden, and problems don't last forever.  This reminds me of a quote from Winston Churchill:  'Success is not final, failure is not fatal: it is the courage to continue that counts.'
The Courage to continue is what counts.
For anyone reading this post, please know that there is help for you.  If you don't have family or friends that you can talk to,  there are many organizations out there that can help, the National Suicide Prevention Lifeline being one.  1-800-suicide is a number that you can call.
If you liked this post, say thanks by sharing it:

Leslie is the Founder of Women On The Move, and The Democratic African American Women Caucus, www.daawc.com. Follow her on social media for all exciting things concerning these two organizations.

Latest posts by Leslie Wimes (see all)