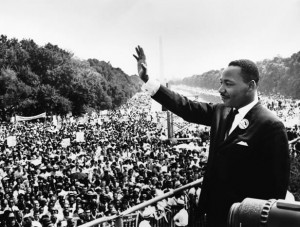 Why? Why are the children of the famous Civil rights Leader and his lovely wife fighting like street urchins?  Where is the dignity that the King name commands?  It is lost on these brothers and sister. Fighting over his prized possessions like thirsty hoodrats!
The estate of Martin Luther King Jr. is asking a judge to force the civil rights icon's daughter to relinquish her father's Nobel Peace Prize and "traveling" Bible.
The complaint against Bernice King was filed Friday in an Atlanta court by her father's estate, which is controlled by her brothers, Martin Luther King III and Dexter King.
Bernice King, long on the outs with her family says:
"They (the brothers) want to sell to a private buyer, our father's most prized possessions," the statement said in part. "I am opposed to the selling of these extremely sacred items."
If, indeed, the brothers want to sell these possessions of their father's I have one question:
Are you sure you aren't related to the Jacksons?
I mean, come on. Who, other than really broke and lazy people, would want to part with these things?  Do you need money that badly?
This is not the first time the King brothers have filed suit against their sister. In August 2013, they allege the King Center, headed by Bernice King, had been careless with historical documents, recordings and even their father's remains in the coffin. They claimed the items are at risk from fire and water damage, mold, mildew and theft.
Jesus be a fence!
The King family is out of control!
Bernice King, who plans a news conference on Thursday, had this to say:
"My brothers' decision to sue me is drastic and grieves me greatly, I have absolutely no desire to be in court or to fight yet another public battle. Our father must be turning in his grave."
I'm with you on that one, Bernice.  Martin Luther King jr. never saw that the peace he sought in society would go all to hell in his own family!
If you liked this post, say thanks by sharing it:

Leslie is the Founder of Women On The Move, and The Democratic African American Women Caucus, www.daawc.com. Follow her on social media for all exciting things concerning these two organizations.

Latest posts by Leslie Wimes (see all)