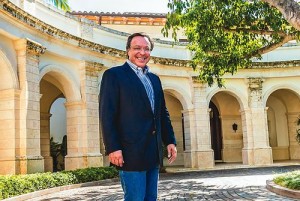 WOW! Talk about going rogue!!
Mike Fernandez, the Finance Chair for Governor Rick Scott's Re-election campaign, who recently quit behind racially insensitive remarks by campaign staffers regarding Hispanics, went quite Sarah Palin-esque in emails obtained by the Miami Herald.  In the emails, you could feel the frustration Mr. Fernandez had towards the shenanigans going on within the campaign. Here is a portion of an email:
"The Governor's ad was sterile (reinforces how people see him). Imagine if he said the same words but the setting was different. Sitting on a park bench, no tie (for God's sake it is Florida), light blue shirt, not white, his family around him and at closing Ann steps in and hand him a grandson. WHAT A DIFFERENCE THAT WOULD HAVE MADE! We can raise $100 m and misspend it and the $$$ is in material.Ignore me, but you will continue getting my comments because I want him to win.   I know, I don't know anything about politics nor political advertising but I know about sales…. You don't trust me because I am not willing to become a supporting cast member to the "Yes Team"  but trust this, my net worth exceeds $3B, and I made it because I am not stupid and I can sell!

Have a good weekend.

Mike

PS. Melissa please give a copy to the Governor. I want him to know what I am saying. I would also like to meet with him and Sen. Thrasher at their convenience.
What in the world is going on over in the 100 million dollar campaign of Rick Scott??
Is this election getting to the campaign?  You have people quitting, leaked emails, and a campaign that is doing a poor job of damage control.
The Florida GOP is so focused on trashing Charlie Crist, and ignoring Nan Rich, that they don't see that their ship is sinking fast.
This is becoming like a Reality Show worthy of BRAVO!
I can only imagine what will come out next!
Mike Fernandez knows that Scott and his campaign can't relate to Hispanics. The majority of Hispanics and other minorities know that Scott and his campaign can't relate to them.
Additionally, Mike, you give this man a million dollar check and raise millions for his re-election and you have no access to him?
I don't know about the rest of you, but if I'm shelling out that kind of dough, I should be able to pick up the phone and call Rick Scott.
Call me Mike.
Let's Talk!
If you liked this post, say thanks by sharing it:

Leslie is the Founder of Women On The Move, and The Democratic African American Women Caucus, www.daawc.com. Follow her on social media for all exciting things concerning these two organizations.

Latest posts by Leslie Wimes (see all)