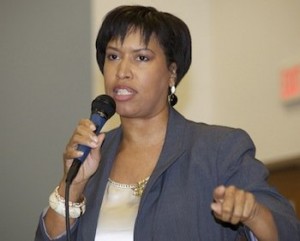 Let me preface this by saying that I don't live in DC.  I don't vote in DC.  I have no vested interest in who wins the race for Mayor.  Based on what I've been told, because she can't get a vote out of me, Muriel Bowser won't listen to what I have to say.
Muriel, you need to listen.
It has been reported in the Washington Post that Muriel Bowser doesn't have the support of most Black Women in D.C.  You can read that here.  I wondered about that.  Why wouldn't she have the support of black women?  It made no sense to me.  We even addressed it on our show, The Round Table.
Last night, I got a better feel for what the problem is.  During the last televised Mayoral Debate of the DC Candidates, Muriel Bowser was asked about her lack of support from Black Women.
Bruce Johnson asked about a recent article in The Washington Post regarding Bowser.

Bowser: Women judge women the most harshly. What we have done every day for the last seven years is we go out and talk to everybody. What that article also said is that we are growing and we have room to grow.
The latter part of Bowser's response was fine. The first part, however, not so much.  Why on earth would she say such a thing? It's as if to say that black Women in DC can't get past catty, jealousy, to be able to make an informed, thoughtful decision on to whom to give their support. I had to ask twitterverse if that was what she actually said.   Funny thing, my tweet ended up on WUSA9 news last night, and I'm glad it did.  This is a problem that needs to be addressed.  I couldn't believe a seemingly intelligent WOMAN would say something like that about other women.  Other Black women! Make no mistake about it.  If a man had singled out a group of women with that statement, he would be persecuted for being misogynistic and stereotypical,  among other things.
Just because Muriel Bowser is a woman, does NOT give her a pass.  Don't forget she is a woman who was endorsed by Emily's list.  I'm quite sure some of the money she has received in order to run such a competitive race came from BLACK WOMEN.  
According to some VOTING Black Women in the District, Muriel Bowser has not reached out to them.  It is felt that she doesn't care about the poor, let alone what she deems as poor Black Women.  Perhaps she thought the support from Black Women would be a lock for her, and that she didn't need to reach out and let these women know that she not only wants their vote, but RESPECTS their vote.  A lot of women, as you see in the Washington Post article cited earlier, don't even know who she is.
Is that the fault of the voters?  Absolutely not.  It is the fault of Muriel Bowser.  A comment such as the one made last night during the debate is the fault of Muriel Bowser.  The lack of support she has from D.C. Black Women is the fault of who?  You guessed it, Muriel Bowser!!
One voter told me the story of an encounter she had with Bowser in Ward 5.  According to the voter, a Black Woman, Muriel came to the home of her employer, doing the ususal "knocking on doors" campaign routine.  When she answered the door, Muriel asked for the owner of the home.  First, how did Muriel know the woman wan't the owner of the home?  Assume much, Muriel?
After finding out the woman was the nanny, Muriel turned around and walked off, without saying another word, until the woman said she lived up the street, and was a voter in D.C.  At that point, Muriel turned back around, all smiles. Read the entire story here.
This woman, her family, and the employers to whom Muriel was prepared to skin and grin with intitially, all have said they would not vote for Bowser because of this incident.  You can't treat people like trash,and then expect to get their treasure, their vote!
Voting is one of the great equalizers in this country, and no matter who, what, when, and, where, each person has a vote.
Now you guys in D.C. have to let me know if Muriel Bowser shows up at some Black Church this Sunday for some photo ops with Black Women.  Something tells me after this fiasco, she is sure to do something like that.  Just know, whoever she finds to do some photo ops with, it isn't because she cares.  She is trying to do some damage control.  Whatever Church she ends up at this Sunday, she certainly isn't seeking The Lord.
I hope Muriel Bowser apologizes to the women of D.C. for her comment last night.  It would be the right thing to do.  People slip up and make stupid comments all the time.
What matters most is acknowledging it, fixing it, and moving on.
Black Women vote, Muriel, and right now it isn't looking like the majority of them are voting for you.
Follow Leslie on Twitter: @womenonthemove1
If you liked this post, say thanks by sharing it:

Leslie is the Founder of Women On The Move, and The Democratic African American Women Caucus, www.daawc.com. Follow her on social media for all exciting things concerning these two organizations.

Latest posts by Leslie Wimes (see all)