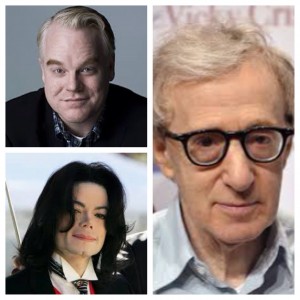 It is very interesting to me how society will excuse certain behaviors when those behaviors are exhibited by celebrities. Yesterday Phillip Seymour Hoffman was found dead in his apartment with a needle in his arm and what appears to be heroin in his apartment. People rightfully mourned his death, gave condolences to his family, and celebrated his talent as an actor.
I was talking about the tragic situation with a friend, and I called Hoffman a junkie. My friend was shocked and appalled that I called this great actor a junkie.
Well, wasn't he? He was every bit the junkie that some unknown, un-famous person in some back alley with a needle in their arm is. We seem to be more sympathetic to a person's demons if that person is a celebrity. I personally think the pedestal we place celebrities on contributes to the feeling they have that they can do whatever they want.
Society is enabling these people to behave badly.
I recently read the heartbreaking letter Dylan Farrow wrote about Woody Allen and the abuse she says she suffered at his hands. Allen will be receiving another major award for his professional work, but does the fact that he is a great actor and director change the fact that he is a pedophile? I don't think so. You see, I believe Dylan. I think Woody Allen should, and will, rot in hell.
No, I wasn't there to witness the abuse personally, but I believe every word Dylan says. I don't think it was all made up by Mia Farrow. Woody Allen married his stepdaughter. Have we forgotten that? I don't care that Soonyi Previn was not related to Allen. She was the daughter of his wife. For Allen to marry her tells me that he had some inappropriate feelings for her when she was underaged. It is sick.
There have been other celebrities that we essentially looked the other way because we loved them and their work. Michael Jackson comes to mind. I loved Michael and his work, but guess what? He was a pedophile.
I'm not even going to get into the whole R. Kelly mess!
I have a daughter. If anyone molested or caused harm to her, I would want them to pay. It should not matter if the perpetrator is a celebrity. How would you feel if your child suffered at the hands of a celebrity? Would that status matter then? I sincerely hope not.
Do you think the people who are extolling the virtues of Phillip Seymour Hoffman would be as caring if it were some unknown who died with a needle in their arm? I can practically guarantee they would not.
So for the record, Phillip Seymour Hoffman was a junkie, no matter how good at acting he was!
If you liked this post, say thanks by sharing it:

Leslie is the Founder of Women On The Move, and The Democratic African American Women Caucus, www.daawc.com. Follow her on social media for all exciting things concerning these two organizations.

Latest posts by Leslie Wimes (see all)