The future of Democrats in Florida isn't as bleak as I thought it was. In fact, I saw a rare bright light in what appears to be a never-ending Democratic black hole.
Miami Beach Mayor Philip Levine!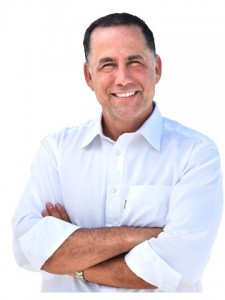 Why aren't we encouraging this man to run for statewide office? Why aren't we encouraging him to get into this race for Marco Rubio's seat?
If ever there was a man that seems to have all the ingredients to inspire the battered base of the Florida Democratic Party, I think it is Mayor Levine!
Not only does he have executive experience, as the Mayor of Miami Beach, he is a self-made man! Nothing was handed to him. He worked his way to the multi-millionaire that he is today!
In my opinion, he has all of the ingredients to make a formidable candidate:
1. In addition to having his own money, he has a vast financial network he can tap into. He put 2 million dollars of his own money into his campaign for Mayor.
2. As Mayor of Miami Beach, he really cares about his constituents.  I was able to see firsthand how much he is loved by people in Miami Beach this past Friday. This isn't a way to get rich for him. He already is, and doesn't even take a salary for being Mayor! He is doing it to make a difference.
3. He contributed to Miami Beach's tax-revenue base before becoming Mayor, and created hundreds of jobs through multiple successful Miami Beach-based businesses.
4. He appeals to a number of communities, Jewish, Hispanic, and African-American. I like him, and you know that I don't like too many people!
5. He seems to be the type of person our party is lacking. One that can actually inspire Democrats to get out and vote!
6. He is a good looking guy. That never hurts when it comes to being in the public eye!
7. He believes in equality, he believes in Climate Change, he believes in Women's rights, he believes in opportunity for all.
Here is a snippet of Mayor Levine's bio:
In 1990, with only $500 in capital, Philip launched Onboard Media, a start-up business that originated in a studio apartment above the News Café on Ocean Drive. Designed as a port-marketing program for the cruise industry, the company expanded to publish eighty-five in-stateroom magazines and to produce award-winning TV programming.
Once Philip had grown Onboard Media into an $85 million company, he partnered with Berkshire Partners to acquire Starboard Cruise Services. The successful merger resulted in the world's largest duty-free and media partner in the cruise industry, with a revenue of about $400 million.
In 2000, Philip sold the company to Louis Vuitton Moët Hennessy, creating the largest cruise industry concessionaire/partner in the world. The Onboard Media headquarters is still based in Miami Beach, just off of Lincoln Road.
Seriously, why aren't we begging this man to run for statewide office? Take a look at this endorsement!
Even President Bill Clintin knows this guy is special:
If you liked this post, say thanks by sharing it:

Leslie is the Founder of Women On The Move, and The Democratic African American Women Caucus, www.daawc.com. Follow her on social media for all exciting things concerning these two organizations.

Latest posts by Leslie Wimes (see all)