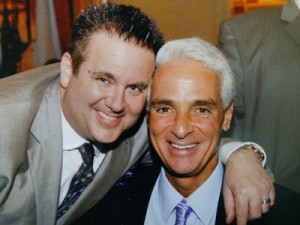 Charlie Crist is trying to do it on his own.
"On his own", meaning he won't have Ponzi-schemer Scott Rothstein to back him up like he did in previous elections.
For those of you who don't know, Charlie Crist was the beneficiary of major Rothstein money for previous elections.  Rothstein, who is currently getting three hots and a cot in prison, has said that Charlie Crist was bought and paid for.
According to Rothstein about Crist:
He was a friend and a business associate. I was able to convince him to do a lot of things
Allegedly one of those things involved the buying of judgeships.
Scott Rothstein says he had a "quid pro quo" relationship with Crist.  In exchange for campaign contributions, Crist named judges to the bench in Broward County who would rule favorably for Rothstein's law firm.
Of course these are claims that Crist vehemently denies, not that anyone expects him to admit to it.
Perhaps Crist isn't worried about Rothstein's current accommodations, and lack of support, because Crist now has John Morgan, a personal injury lawyer who is known for dropping large amounts of money for various reasons, around this state.  Mainly advertising.
Now if Charlie Crist were to appoint judges that are "kinder" to plaintiffs, I'm sure John Morgan would be very, very happy.  I think that liaison is clearly worth watching.
If Crist sold judgeships once, he will certainly do it again.  A leopard NEVER changes his spots.  Oh wait, this is flip-flopping Charlie Crist we are talking about, so ANYTHING goes with him, as long as he can get something out of it.
When asked to respond to the Scott Rothstein allegations, the Crist campaign sent their attack dog, Dan Gelber to do it,and this is what he had to say:
"Scott Rothstein may be one of the great liars and scam artists in Florida history, which is pretty amazing. He's acquitted himself even among a place notorious for producing great liars and scam artists. I think he's reached almost sociopathic levels, which is why he's serving a 50-year jail sentence,"
If Scott Rothstein is one of the great liars and scam artists in Florida history, he is in company with one CHARLIE CRIST!
If you liked this post, say thanks by sharing it:

Leslie is the Founder of Women On The Move, and The Democratic African American Women Caucus, www.daawc.com. Follow her on social media for all exciting things concerning these two organizations.

Latest posts by Leslie Wimes (see all)