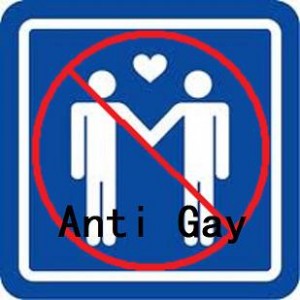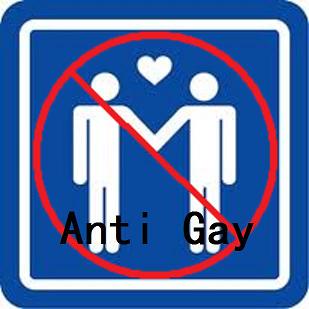 I know, I know! South Dakota hasn't been on people's radar of late, save for the Keystone Pipeline and whether or not it should go through. There is a lot more bubbling to the surface in South Dakota than we are aware of! There is some heavy-duty racist, anti-gay shenanigans going on!
Steve Hickey, a South Dakota Legislator, went on a serious anti-gay tirade on his Facebook page. Where is GLAAD when you need them? ACLU, are you out there? Take a gander:
A One Way Alley for the Garbage Truck
Rep. Steve Hickey, District 9, Sioux Falls

Consider this an open letter to the medical and psychological communities in South Dakota. The subject is homosexuality, which is about to be a front-page topic for the next few years in our state. I'm asking the doctors who practice in our state, is the science really settled on this issue or is it more the case that you feel silenced and intimidated?

Certainly there are board-certified doctors in our state who will attest to what seems self-evident to so many: gay sex is not good for the body or mind. Pardon a crude comparison but regarding men with men, we are talking about a one-way alley meant only for the garbage truck to go down. Frankly, I'd question the judgment of doctor who says it's all fine.

South Dakota docs, it's time for you to come out of the closet and give your professional opinion on this matter like you capably and responsibly do on all the others. Somehow the message we are presently getting from the medical community is that eating at McDonalds will kill us but the gay lifestyle has no side effects. Truth be told it seems self-evident the list of side effects would read far longer than anything we hear on a Cialis commercial.

If many are indeed wearying of our religious community leading on these morality issues, and believe also those of us in the legislature should butt out too, it's time for the medical community in our state to be honest with us. If you don't speak up, this issue will be decided by five unelected judges on the Supreme Court regardless of what states like ours have decided by public vote.

This indeed is a matter of being on the wrong side of history considering that historically, homosexuality has been a notable marker of the downfall of past civilizations, not their rise. It's not hate for a physician to speak up about something that is harmful to human health. It is not unloving to tell people you don't have to have sex with and marry someone to love and be loved by them. As one who performs marriages and counsels couples as part of my professional life, marriage is the last thing I'd recommend to someone who simply wants to be loved and legitimized. What do other health care and mental health professionals in our state really think?

The South Dakota High School Activities Association is presently considering changing the rules to accommodate transgender kids. Forty-one percent of those who struggle with Gender Dysphoria attempt suicide, that's twenty-five times the rate of the general population– certainly tragic and urgent but not a word from the medical and psychological communities? So really, we are letting our basketball coaches sort it out while ACLU lawyers look carefully over their shoulders!?

Letting boys play girl sports is not the starting place to fix the suicide problem or the very real daily struggle these students face dealing with something they have been handed in life. Society is broken and people have broken identities. Is it really best for us to break down the one remaining thing that has been working in society to try to fix the broken in our midst? And does it really even do that, or does it merely put them in more places exposing them to additional painful ostracization all the while transferring serious anxieties to other innocent and impressionable ones in those locker rooms? We need to have compassion but there are unintended consequences to consider too.

Before we let lawyers and judges decide this for our state and override the will of the people in the 2006 election, I issue a call to the medical and psychological communities and associations to weigh in publicly and timely on the matter of homosexuality and the human body, psyche and family, particular kids.
Huh? The roaches are really coming out of the woodwork! Cliven Bundy, Donald Sterling, and now Steve Hickey??? What is going on here? Where is the coverage of this blatantly racist, discriminatory legislator? What kind of people elected this fool? This type of hate speech, because that is exactly what it is, cannot go unchecked! We have to confront racist, discriminatory behavior AND speech, wherever we find it, and right now it is dripping in South Dakota!
I can only imagine how the Native Americans are being treated there! I can only imagine how women are being treated there!
Speaking of women, Annette Bosworth, a candidate for US Senate from, you guessed it, South Dakota, compared people using food stamps to wild animals in a park!!! Really? She put this on her facebook page and refuses to say she is sorry for it. Do the wilder and most hurtful statements in South Dakota get a person elected?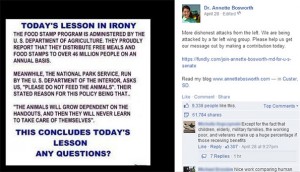 Does she forget that food stamps help some of our military families, our elderly, our handicapped? How insensitive can this "woman" be?
I recently met Corinna Robinson, a 25-year military veteran, who is currently running for the House of Representatives for South Dakota against tea-party incumbent, Kristi Noem. Corinna is such a breath of fresh air, and cares about EVERYONE in South Dakota. She is the type of representative South Dakota needs!
Hey DCCC, you need to get behind this wonderful veteran, because from the looks of it, South Dakota is in BIG trouble!!
If you liked this post, say thanks by sharing it:

Leslie is the Founder of Women On The Move, and The Democratic African American Women Caucus, www.daawc.com. Follow her on social media for all exciting things concerning these two organizations.

Latest posts by Leslie Wimes (see all)