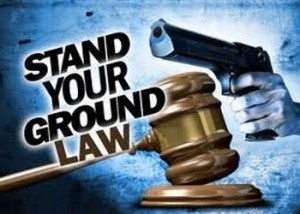 In the state of Florida, the standard has been set. If you are a non-black, you can legally shoot and kill any Black Male you see, as long as you say you feared for your life. Mind you, the Black person doesn't need to be carrying a weapon. He can be carrying skittles and tea. You can simply say you "thought" there was a weapon.
If, and that is a strong if, you are taken to trial, not only will you not be convicted of murder, which is what you did, you can even have the state pay YOU! See the George Zimmerman case. The icing on the cake is that you will then be considered a celebrity, and make MORE money off of Florida's legalized lynching standard!
As preposterous as this sounds, people, it is true. The state of Florida, heavily backed by the NRA, is engaging in its own brand of ethnic cleansing. The state is systematically allowing young black men to be hunted and killed like animals, and the murderer will not serve one day in jail for murder. Now mind you, Michael Dunn will go to prison, but not for murdering Jordan Davis. He is going for attempted murder of the three young men who survived.
What this tells the next Floridian who decides to hunt young black men is to not leave any alive. That's really what Michael Dunn was trying to do when he continued to fire on the SUV carrying Jordan Davis and the other young men as it drove away.
Zimmerman was able to say what he wanted with no rebuttal because there were no witnesses left alive. Dunn wanted the same thing.
This blueprint being laid out by the State of Florida for legalized lynching will spread to other states. Make no mistake about it. In fact, it already has. The precedent has been set.
Parents, please warn your kids to be smart, be safe, be careful.
Florida is leading the way.
If you liked this post, say thanks by sharing it:

Leslie is the Founder of Women On The Move, and The Democratic African American Women Caucus, www.daawc.com. Follow her on social media for all exciting things concerning these two organizations.

Latest posts by Leslie Wimes (see all)