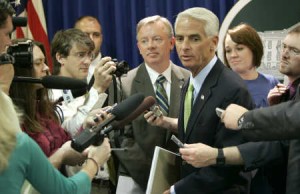 Leading up to the primary, I will be taking the good people of Florida on a Charlie Crist Wayback Machine time travel trip.  No, I wont be using anyone's private plane, train, or automobile, but I will be using Florida's very skilled journalists for this trip.  Today's captain is none other than Steve Bousquet!! Ready?  I sure am! Let's do this!! Dan Gelber, Crist's new George Lemieux, makes an appearance!!
Florida Legislature questions Gov. Charlie Crist's hands-off approach
By Steve Bousquet, Times/Herald Capital Bureau
In Print: Sunday, March 29, 2009
TALLAHASSEE — Gov. Charlie Crist's policy of disengagement is testing the limits of lawmakers' patience and raising questions about his leadership.
As the legislative session nears the midway point, Crist keeps at a safe distance from the politically turbulent talk of painful budget cuts and higher taxes swirling about him.
For instance, on Friday, as the state announced that Florida's unemployment rate spiked to 9.4 percent, the highest since Gerald Ford was president, Crist took the day off. The week before, he took two days off.
Sen. JD Alexander, the Lake Wales Republican who is the Senate's chief budget writer, drew laughs around the capital when he put up a sign warning against the "rose-colored glasses" worn around the governor's office. But his message to Crist was serious.
"I don't have the bully pulpit the governor has," Alexander said. "The only thing I'd ask is that the governor help us make sure the people of Florida understand the issues we're facing, in a forthright and straightforward way. The choices are difficult."
The next week to 10 days is critical, as the Senate and House seek common ground on taxes and spending. Support for a cigarette tax hike and eliminating sales tax exemptions is stronger in the Senate than in the House. Lawmakers will need to be brought together.
Crist promised to become more engaged: "We'll start to draw a bead on it, as hunters would say," he said.
The session began four weeks ago with lawmakers facing a budget crisis that has steadily gotten worse. Even with an influx of cash from the federal government, a sharp drop in tax receipts has left the Legislature with a $3 billion hole to fill. The state Constitution requires a balanced budget.
But Crist's budget recommendations, proposed at the start of the session, have been set aside as irrelevant because they were based on an outdated and overly optimistic revenue estimate from last November.
"We threw that away," Sen. Mike Fasano of New Port Richey said at a recent budget hearing. A strong Crist ally, he said later that lawmakers rarely pay much attention to a governor's budget proposal.
Since that time, Crist has repeatedly pledged to "hold education harmless" from more budget cuts, and vows to protect "the most vulnerable among us," especially the poor, from further pain.
But that talk clashes with the reality setting in at the state Department of Children and Families, where current budget proposals mean 5,000 more adults would not receive mental health services and 1,200 adults and 1,000 children would have no access to substance abuse help next year.
DCF Secretary George Sheldon gave a reporter his staff's handwritten notes on how proposed cuts would affect his agency. Cuts in drug abuse treatment would mean "criminal justice involvement, unemployment, homelessness," the note said.
On education, Crist's "hold harmless" argument doesn't wash with lawmakers.
"He says he doesn't want to cut services, but he doesn't want to increase taxes. It's hard to navigate that," said Sen. Dan Gelber, D-Miami Beach. "At some point he's got to say: Cigarette tax, yea or nay? Tax exemptions, yea or nay?"
Crist won't say.
Being remembered as the governor who raised taxes could be very dangerous for a Republican whose only real link to his party's conservative wing is his opposition to taxes.
"I'm resistant to tax increases because I'm sympathetic to the people of Florida and the difficulties they're facing right now," Crist said.
Crist is considering a possible run for U.S. Senate in 2010 and Gelber could be the Democratic opponent in that race. Despite that, the senator and governor get along well, but Gelber said it's time for Crist to act.
"He needs to draw a line in the sand," Gelber said. "I don't know that a budget that's closing schools and firing teachers and gutting programs is a hold-harmless budget. I think it's a harmful budget."
Gelber produced a document prepared by the Senate education staff showing that $1.4 billion has been cut from the public schools over the past two years, for a net drop in per-pupil funding of $445.43 during that period, which also coincides with Crist's tenure as governor.
But Gelber said it's going to take Crist's leadership to secure the money for education and other needs. It would be politically unwise for Republicans in the Legislature to take the risky position of proposing tax increases if Crist might veto them.
"It doesn't make a lot of sense for us to talk about new revenue if the governor is not going to go along with it," Gelber said. "That's counterproductive."
Still, lawmakers tread lightly in criticizing Crist. They like him personally and respect his keen political instincts and his high job-approval rating. But the expectations on Crist are higher in part because the House is led by a very inexperienced speaker, Rep. Larry Cretul of Ocala, who said Friday he has had "minimal" contact with Crist so far.
Gelber said it makes sense for Crist to be more specific in helping to shape the outcome of the session because in the end he will be held responsible for what happens.
"He does need to engage, because he's going to be saddled with the result. People are going to turn to him and say, 'How did this happen, and why?' " Gelber said.
If you liked this post, say thanks by sharing it:

Leslie is the Founder of Women On The Move, and The Democratic African American Women Caucus, www.daawc.com. Follow her on social media for all exciting things concerning these two organizations.

Latest posts by Leslie Wimes (see all)