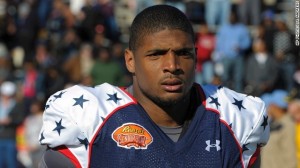 Football is a brutal sport. It has caused many a case of brain damage, via steroid use and just plain old head butting.  Football is one of those sports where testosterone runs really rampant. What Football isn't, is Gay-friendly, so Michael Sam, or any other openly gay player will not get the welcome wagon.
This is not to say that there aren't any gay players in the league. I'm sure there are plenty. None that have admitted it while active though.  In walks Michael Sam. He is the Missouri All-American Defensive Lineman who announced he is Gay.
According to some sources, such as The Big Lead, his stock has already begun to plummet, falling 70 spots in the lineup.
Sam, at 6-foot-2 and 260 pounds, starred in college football last season. Besides being first team All-American, he was named the top defensive player in the Southeastern Conference, considered the nation's best league. Teammates named him the team's most valuable player.
College Football and the NFL are different. Big money and even bigger egoes are on the line.
While The NFL issued this statement on the subject "openly"(pun intended):
"We admire Michael Sam's honesty and courage. Michael is a football player. Any player with ability and determination can succeed in the NFL. We look forward to welcoming and supporting Michael Sam in 2014."
Privately different things are being said.
Jason Collins, the NBA player who came out, can't get a job.  Will the same fate befall this youngster?
Professional Sports in the US seems to be the last frontier when it comes to accepting Gays.
Sam's head football coach at Missouri, Gary Pinkel, said: "We're really happy for Michael that he's made the decision to announce this, and we're proud of him and how he represents Mizzou. Michael is a great example of just how important it is to be respectful of others, he's taught a lot of people here first-hand that it doesn't matter what your background is, or your personal orientation, we're all on the same team and we all support each other."
Professional coaches have other teammates they have to answer to.  While no one would dare say anything "openly", You better believe there are those who are saying they don't want to play with Michael Sam.
How this unfolds will be very interesting!
If you liked this post, say thanks by sharing it:

Leslie is the Founder of Women On The Move, and The Democratic African American Women Caucus, www.daawc.com. Follow her on social media for all exciting things concerning these two organizations.

Latest posts by Leslie Wimes (see all)