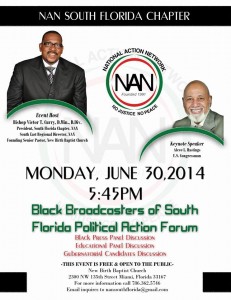 Charlie Crist has run from Nan Rich consistently.  He has turned down every opportunity offered to him to appear along side the life-long Democrat.  He refuses to debate her.  He tries to ignore her.  He is very condescending towards her. He treats her like she is  a non-factor.
So what made Charlie "Chain Gang" Crist accept the invitation to appear along side Nan rich in Miami on June 20th, 2014 at 5:45 at New Birth Baptist Church?
The African-American vote.
Without our vote, Crist is dead in the water, and he knows it.
That being said, we, as a community, need to realize that this man doesn't have our best interests at heart.  In fact, the only interest he cares about is his own.  Charlie Crist does what is in the best interests of Charlie Crist.
He wants our vote.  He NEEDS our vote.  He just doesn't want to do anything to EARN our vote.  For some reason he thinks because he slithered next to President Obama, he automatically gets the backing of our community, whether he deserves it or not.
He does NOT deserve it.  Trust and believe that if Charlie Crist had won the US Senate race in 2010, he'd still be the same Card-carrying, Gay-hating, Chain-Gang loving, Anti-Choice person he was then.  He can be closeted in his beliefs now, refusing to go on record in a debate that would expose what he REALLY believes, but the African-American community isn't fooled one bit.
Crist thinks if he sends out pictures of Black women in African clothes (what the hell was that about?), gets a few tokens on his campaign, yells "racism" against the Republican Party, that we are stupid enough to vote for him without taking him to task regarding his past, his present, and his future.
Make no mistake about it.  When people show you who they are, believe them.  Charlie Crist has spent the majority of his political career showing us who he is.  If anyone believes that he left the Republican party because he "couldn't take it anymore", then I have some swamp land I'd like to sell to you.
Charlie Crist left the Republican party because he was getting stomped by Marco Rubio.
Charlie Crist was instrumental in trying to get Kendrick Meek, a Black man, pushed out of the US Senate race.  He didn't care that Meek had earned the right to run for office.  All he cared about was the fact that he wanted that Senate seat, and he wanted the Black man out of his way to get it.  Well now he wants the Black vote.  Are we going to give it to him, no questions asked?
I sincerely hope not.
As Tupac Shakur said: Real Eyes Realize Real Lies!
Sorry Charlie!
As much as Democrats would like to downplay our vote, or feel like they don't have to work hard to get it, they KNOW that without it in the state of Florida, they have problems.
Nan Rich deserves our support.  Nan Rich has worked hard for us.  In fact, she has worked hard for everyone, only to be ignored, cast aside, and considered a non-factor.
Our community knows what that feels like all too well.
Here is a qualified woman who has stood with Democrats her entire political career.  She may not have the money or name recognition of Charlie Crist, but that is no reason not to support her, especially since she has always stood for the very principles that we hold dear.
I would say that Nan Rich is more similar to Barack Obama.  No one thought he stood a chance against Hillary Clinton, who had more name recognition than he did.
We showed up and showed out for him.
Let's do the same for Nan Rich on August 26.
Let's show Charlie Crist, and all the other slick-talking, lying politicians like him that we know our worth and we know our power.
Let's put Nan Rich into the Governor's Mansion.
If you liked this post, say thanks by sharing it:

Leslie is the Founder of Women On The Move, and The Democratic African American Women Caucus, www.daawc.com. Follow her on social media for all exciting things concerning these two organizations.

Latest posts by Leslie Wimes (see all)