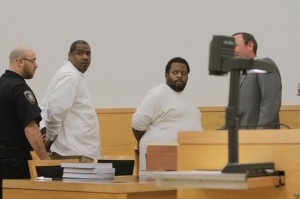 Remember The Shawshank Redemption? The great movie starring Tim Robbins and Morgan Freeman? The movie tells the story of Andy Dufresne, a man wrongfully convicted of murder. After serving 20 years in prison, Andy, Tim Robbins' character, escapes after digging a tunnel out of the prison.
Let's talk about Tony Yarbough and Shariff Wilson. These two men walked out of prison free men, after serving 21 years  for three grisly murders they did not commit.
Did you get that? 21 years for three murders they did not commit.
In 1992, Yarbough's mother, sister, and the sister's friend were found inside a Coney Island project, stabbed and strangled. Yarbough and Wilson returned home from the West Village to find the bodies.
Their lives took a devastating change after that. There was never any evidence connecting the two young boys to the crime, but they were convicted based on a coerced confession from Shariff, the 15 year old.
15 years old.
At any rate, last summer, the city's medical examiner revealed that the DNA found under Annie Yarbough's fingernails matched evidence found in the 1999 killing of another woman found raped and stabbed to death in Brooklyn. Annie Yarbough was Tony's mother.
Tony and Shariff were in jail. The real killer of Tony's mother, sister, and sister's friend, had killed again.
Shariff recanted his confession in 2005, when he was older, to no avail. The young men passed several lie detector tests, although inadmissable. The boys were telling the truth.
Fast forward 21 years. The MEN are now free. They are now released into a world they know nothing about. They have to get to know life. They have to get to know family. They have to get to know themselves as free men.
I wish them luck. It will be hard!
If you liked this post, say thanks by sharing it:

Leslie is the Founder of Women On The Move, and The Democratic African American Women Caucus, www.daawc.com. Follow her on social media for all exciting things concerning these two organizations.

Latest posts by Leslie Wimes (see all)