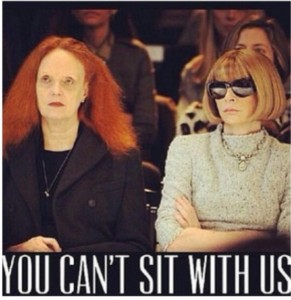 Mercedes-Benz Fashion Week officially kicked off today. All the fashionistas and wannabes are descending on NYC, including yours truly!
At Fashion Week, you get invitations to individual designer shows. This is easy if you are a celebrity, of course. If you are connected to the fashion industry in any other way, like having a daughter who is in Fashion PR, you can get invitations too!
Now you have to know the rules of FW!
Celebrities are always seated front row. So are the editors of major magazines. Anna Wintour would NEVER be anywhere but front row! Even if you don't get front row, just getting a seat is a win, so don't feel bad.
One of the great perks of FW are the swag bags! If you can get your hands on a swag bag, you have won!
Next, the parties!
That's the hard part, unless you are Rihanna or Beyoncé.
Party crashers are finding it harder and harder to crash the FW parties.
Cloud-based velvet ropes like Zkipster have joined Fashion GPS, Splash and other services that allow tablet-toting event organizers, party promoters, wedding planners and maître d's to weed out interlopers.
This week, zFace, an add-on to the Zkipster guest-list app that links digital photos of invitees, will be wielded at Fashion Week events for Armani, Maison Martin Margiela and Moncler. The system uses Microsoft Bing to source online images to accompany names, and the host selects the most accurate (and, one hopes, flattering) photograph.
"I don't think we can kill gate-crashing 100 percent," said David Becker, a founder of Zkipster (pronounced "skipster"). "We just made a tool to make it much harder in the future." Still, he professed no animosity toward the uninvited. "If people are still smart enough to crash the gate with faces on the list, they should go for it," he said. "I think it's a beautiful sport."
ZFace was introduced in December during Art Basel Miami Beach. At a Dom Pérignon party, a pileup of gallery kingpins, billionaire scions and wannabes mobbed multiple checkpoints in hopes of entering the rarefied slosh. Some failed miserably.
Life is getting so technical!!
As always, Fashion Week will be an experience and a fun time!  Good Luck!
If you liked this post, say thanks by sharing it:

Leslie is the Founder of Women On The Move, and The Democratic African American Women Caucus, www.daawc.com. Follow her on social media for all exciting things concerning these two organizations.

Latest posts by Leslie Wimes (see all)