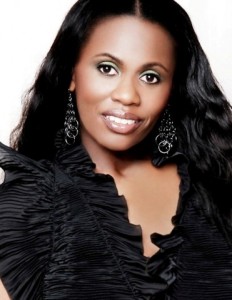 As everyone who reads my posts can attest to, I am not a Charlie Crist supporter.  I have a very hard time believing that he has done a complete 180 degree turn on EVERY belief he has ever held in politics.  I realize that people evolve.  I realize that people CAN and DO change.  I just don't believe that Charlie Crist has.  I genuinely believe that Crist wants back into the political game, by any means necessary, and now that means becoming a Democrat and saying all the things he thinks Democrats want to hear in order to get elected.
Most Florida Democrats are so hell bent on removing Rick Scott, that they are either turning a blind eye to the glaring flaws of Charlie Crist, or they simply don't care, because in their opinion, anything is better than Rick Scott.  My vote means more to me than just removing an incumbent.  My vote is precious to me.  As a Black Woman, I have double the reason to hold my vote close to my heart, and to cast it in a way that truly reflects how I feel.  It took a very long time for Black Americans to get the vote, and even longer for women.
Quick history lesson:
1.Black men were granted the right to vote in 1870 with the ratification of the 15th amendment.The right of citizens of the United States to vote shall not be denied or abridged by the United States or by any State on account of race, color, or previous condition of servitude.")
2. Women's suffrage was granted in 1920 with the ratification of the 19th amendment The right of citizens of the United States to vote shall not be denied or abridged in the United States or by any State on account of sex.
Given the fact that I am Black AND a woman, my vote means more to me than "going along with the crowd".
The Democrats are supposed to be the party that accepts differing ideas and positions from its members. Democrats are supposed to be more tolerant than Republicans? Right? Well in this case, the answer is wrong.  I have been accused of working for Rick Scott, of being an undercover GOP operative, and a whole slew of other things by those on the left who want me to hand over my vote to someone I don't believe in.
My response to that is very simple.  Call me what you will.  Imply what you will. My forefathers and foremothers worked very, very hard in order for me to be able to walk into a polling booth and cast my vote for WHOEVER I decide deserves it.  I will NOT be intimidated by anyone.  I will not cast my vote for just ANYONE.
Getting tweets such as this one from rabid Charlie Crist supporters does not and will not make me sacrifice my vote for their wishes.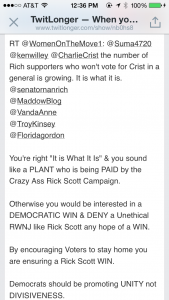 Being united on policies and principles doesn't mean we are united on Candidates.  Being united in a party doesn't mean that no one can ever have differing ideas.  Being united in a party certainly doesn't mean calling someone a "GOP Plant" because they don't support the candidate you support, who by the way WAS a GOP operative the majority of his political life.
If Charlie Crist wants to persuade those who will not be supporting him in a general election, why doesn't he debate Nan Rich?  What is he hiding that he is afraid will come out during a debate?  Democrats are entitled to vet our options and see them in a side-by-side comparison.  For some reason, Charlie Crist refuses to give Florida Democrats that respect.
It is not the Democrats who won't vote for Crist that are doing wrong.  It is Charlie Crist.  He needs to prove to voters that he is deserving of our hard earned, fought for, right to vote.  He hasn't done that, and clearly doesn't think it is necessary.  Guess what?  It IS necessary.
There are a large amount of Democrat voters in the counties of Palm Beach, Broward, and Miami-Dade who WILL stay home and not vote in a general match-up that features Charlie Crist and Rick Scott.
Charlie Crist can change that by showing us why we should vote for him.  I don't care how loudly he proclaims that he is now a Democrat.  I don't care how much money he shovels into the coffers of the Florida Democrat party. I don't care how many of you call me a GOP plant.  I don't care how many of you scream that not voting is essentially a vote for Rick Scott.
What I DO care about is casting my vote for someone that I think deserves it.  For that, I, and others who feel the same way, should be commended, not condemned.
Either way, I'm casting, or not casting, my vote in a way that allows me to feel comfortable about it.
For those that don't like it, all I can tell you is that the choice is not yours, it's mine.
If you liked this post, say thanks by sharing it:

Leslie is the Founder of Women On The Move, and The Democratic African American Women Caucus, www.daawc.com. Follow her on social media for all exciting things concerning these two organizations.

Latest posts by Leslie Wimes (see all)