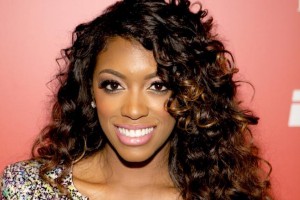 Just like a lot of other people, I watched The Real Housewives Of Atlanta Reunion this past Sunday.  I watched Porsha Williams pull Kenya Moore to the ground by her hair, after being repeatedly provoked by Kenya.
No one condones violence ( in public, anyway. behind the scenes I'm sure there are those who cheered Porsha).
For the last two seasons, Kenya Moore has bullied, chided, ridiculed, and picked on Porsha.  There is no question about it.  Kenya singled out Porsha, thinking she was the weaker of the ladies, and preceded to treat her in a way that we decry in other bullies.  Yes, Kenya was disrespectful to Phaedra, but she took it to another level with Porsha.
Even on the reunion show, when Nene Leakes spoke over Kenya Moore, Kenya did not ONCE use that bullhorn towards her.  Not once.  Kenya knew better.
Kenya decided that she wanted to be a stand-out on the show, and would do it by any means necessary, which included bullying Porsha Williams.
Porsha had enough.  I think we all had enough.  Andy Cohen, along with Bravo saw the constant bullying.  Andy says they don't condone violence, but they DO condone bullying?  The name calling, the shade thrown at Porsha's marriage constantly, all eventually were going to take their toll.  We all saw it coming.
Kenya Moore appeared to be jealous of Porsha Williams, in my opinion.  That is not to say that Kenya isn't a pretty woman, because she is.  I think the jealousy lies in the fact that Porsha was married, and is young enough to have children without the need for any type of fertility treatment.
Kenya talked a lot about Karma on the reunion show.  Maybe Karma is catching up with her as well.
Kenya said she has never had her boyfriends in the spotlight, as if to say she has a history of keeping her relationships private, and that's why her African Prince has not surfaced on the show.  My question to that is this:  If you never like to have your relationships on public display, why was Walter on the show?  Does that mean the relationship really WAS fake, or are you now using this privacy routine because there is no relationship with the no-named African Man?
You can't have it both ways.
The talk now is that Porsha Williams may be fired.  I hope not.  If anyone should be let go, it should be Kenya Moore.  While we all like a little ratchetness and drama, Kenya Moore was THE most divisive character on the show.  She was down right mean and hateful.  All for attention.  Pointing the sceptre in Porsha's face, yelling with the bullhorn in Porsha's face, all of that was childish, mean, and totally uncalled for.
While I understood Andy Cohen decrying violence, I'm disappointed that he didn't decry the bullying that went on by Kenya Moore.  As a Gay man, whether he himself was bullied or not, he knows how hurtful and harmful that can be.  People have taken their own lives as a result of bullying.
If you liked this post, say thanks by sharing it:

Leslie is the Founder of Women On The Move, and The Democratic African American Women Caucus, www.daawc.com. Follow her on social media for all exciting things concerning these two organizations.

Latest posts by Leslie Wimes (see all)