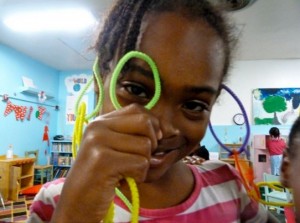 I have been trying not to write about this case ever since it came to light.  I figured everyone else would be covering it, so there was no need for me to do so.  Then it occurred to me.  Perhaps that line of thinking is why we don't know where Relisha Rudd is or what happened to her.  Someone who saw what was going on figured someone else would take care of it.  The problem is, no one did.  No one intervened on this child's behalf.
Relisha never stood a chance.
Relisha Rudd and her family were homeless in Washington, D.C., a situation that affects a lot of people due to the high cost to live in our nations capital.  That's another post altogether.
I don't know what happened in Shamika Young's, Relisha's mother, life, but I can't imagine ever allowing my daughter to go off with the janitor from the homeless shelter.  Did she sell Relisha?  We all know things like this happen everyday.  Remember my story on the Indiana woman who sold her baby to pedophiles?  Unfortunately, that is the only thing that makes sense to me.  This woman knows what happened to her child with regards to how Relisha ended up leaving with Kahlil Tatum.  She just isn't telling, because once again, she cares more about her own self than she does about Relisha.
D.C. Police Chief Cathy L. Lanier said Thursday that the search for a missing 8-year-old girl has turned into a "recovery mission," signaling that law enforcement authorities do not believe that this baby will be found alive.
Shamika Young still is not helping police in the search for Relisha.  She claims she talked to Relisha, and that Relisha is in a "safe place".  Relisha hasn't been in a safe place since she was born, because she was born to someone who doesn't care about her.
Parents are supposed to protect their children.
Two police officials said that Young did not want to file a missing persons report when police got involved March 19. She told detectives and the news media that she had talked to Relisha by telephone as late as March 17, and she told police her daughter had accompanied Tatum, whom she described as "Dr. Tatum," to a medical conference in Atlanta.
She knew Tatum was the janitor at the shelter.  What "medical conference" could he possibly be going to?  I go back to was Relisha sold for sex trafficking.  Did Tatum and Young provide Relisha for some perverted pedophile for a couple of dollars?  Is Tatum the perverted pedophile?  It has been stated that he gave gifts and candy to the children living in the D.C. homeless shelter, clearly against the rules.
Others knew this, and said nothing.  Now Relisha is gone.
I'm praying that Relisha is found unharmed, but it is not looking good at all.  With all of this attention to the case, whoever has/had her, would now see her as a liability.
I'm sick to my stomach about this.
If you liked this post, say thanks by sharing it:

Leslie is the Founder of Women On The Move, and The Democratic African American Women Caucus, www.daawc.com. Follow her on social media for all exciting things concerning these two organizations.

Latest posts by Leslie Wimes (see all)