Why? That is the first word that comes to my mind when viewing this photograph. Trust and believe, it isn't the last. I could reel off a litany of other words, CHOICE words, but I won't. In fact, I don't have to. Anyone seeing this picture should realize the problem I have with it.
Who wouldn't have a problem with this? Don't get me wrong, I know that there are some who are into the whole Bondage/Sado/Masochism thing. HOWEVER, to put this "chair" in a photo shoot featuring an educated professional White woman disturbs me. Not to mention the photo was released on Martin Luther King Day.
I am an advocate for women period, regardless of the race. I can't, however, let this disgusting photo go unchecked!
Black Women have been, and continue to be, subjected to these types if things. I don't get why!
What is it about society that makes this ok? Is this supposed to be art? If so, it stinks! Is this supposed to be funny? If do, it isn't! Is this supposed to be fashion? If so, it's tasteless.
The magazine in which this appeared is a Russian magazine, Buro 24/7. I'm glad it isn't in the United States.
Black Women are still trying to get rid of the stereotypes that still plague us. This doesn't make it any easier! Thanks to Me And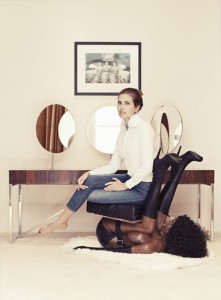 My 1000 girlfriends for alerting me to this!
If you liked this post, say thanks by sharing it:

Leslie is the Founder of Women On The Move, and The Democratic African American Women Caucus, www.daawc.com. Follow her on social media for all exciting things concerning these two organizations.

Latest posts by Leslie Wimes (see all)